health
Where you can still get free COVID supplies and help in NYC
The federal emergency is over but COVID is still around. We rounded up where to find free tests, medication, vaccines and other supplies from what's left of our brief pandemic experiment in universal healthcare.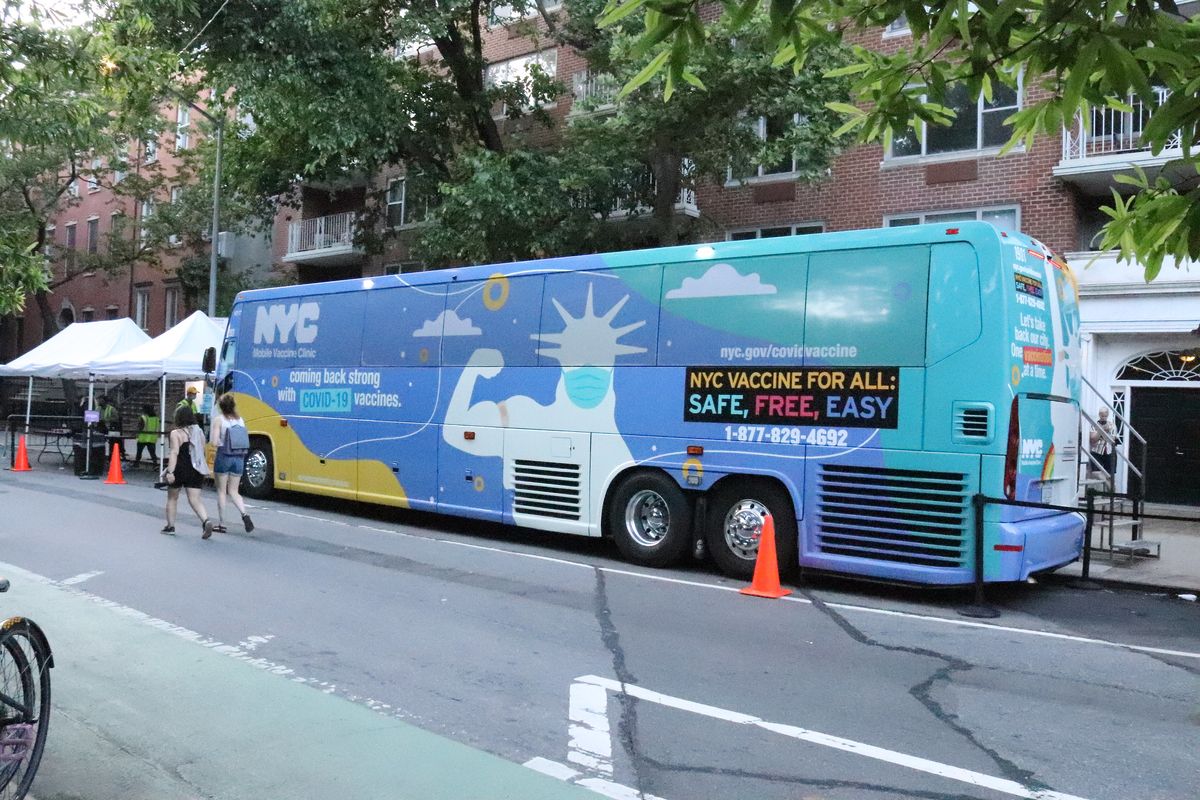 Have you heard the good news? COVID is over.
Or, you know, "over," as in still here but not everywhere. But COVID-19 cases are slightly on the rise in the city, and our ecosystem of information, treatment and supplies has largely scattered to the winds.
The CDC declared an end to the COVID-19 public health emergency on May 11, meaning the end of federal funding for free tests and treatment and, in New York, the end of free testing vans every few blocks.
(Not to worry: DocGo, the medical services company that was in charge of all those vans, has already moved on to greener pastures: a $432 million no-bid contract from the city to provide housing and case management for migrants arriving into the city, and "taking care" of them with security guards who threaten them in front of reporters).
That said, there are still plenty of options for the cash-strapped and/or uninsured among us. Below, we rounded up where to find free tests, medication, vaccines and other supplies from what's left of our brief pandemic experiment in universal healthcare:
Testing
Long gone are the days of free COVID testing everywhere. The era of dubiously trustworthy private swab-and-go vans that popped up on seemingly every major street corner in the city for a few years (some of which were indeed fraud) is done.
Gone also are the days of the city's more official, ostensibly more trustworthy — but again, also possibly fraud-tinged! — testing vans. Those ended after the federal public health emergency expired, as did the ability to order free tests through the mail from the federal government.
The good news is that the city still has free testing available in lots of ways, though the supplies may be running low in some places.
Free at-home tests
Update, 9/25/23: Well folks, we did it: the current COVID surge has gotten bad enough that the Federal Government is once again mailing out free at-home test kits. Orders opened up today (Monday, Sept. 25) and can be placed online here. Biden is offering up four test kits per household, which will be mailed out starting the week of Oct. 2.
Libraries, community centers, recreation centers theaters and other public places across the five boroughs still have supplies of free, at-home COVID tests available for pickup, no questions asked. The catch is that some of them are expiring, while elsewhere representatives told us that their supplies are running low, and they're not getting more.
This list of free COVID test pickup sites from the city appears to be up to date: we called several locations listed in all five boroughs to check and each said they still had at least a few tests available.
Several libraries told us they don't expect to receive any more supplies of tests; one location in Queens said they had tests that expired in May (you can check the FDA's guidance on stretching expiration dates here).
If for some reason you can't get to one of those many libraries or other facilities, you can always buy tests. They cost about $25 per box at pharmacies like Walgreens (you can see if they're available at your local store on the site too); local pharmacies will usually have some in stock too.
In-person tests
In-person PCR lab tests are harder to come by now, but still available. The city has several clinics where you can schedule an appointment to obtain one. Clinics are located in Crown Heights Brooklyn, Jamaica Queens, Morrisania in the Bronx and on the Upper West Side of Manhattan. Check that list and schedule a visit here.
Other free in-person tests for people without insurance can be found here.
Pharmacies with clinics, such as certain CVS stores, still offer in-person testing. According to their website, the costs can run up to $200 for each test without insurance.
LabQ — which operated pop-up testing tents and has laboratories around the city — won't give you a test without insurance or a prescription from a doctor, according to a representative from the company.
If you're really in a bind, you can always try urgent care, which will test you for COVID at a price (we don't recommend this!). CityMD charges $225 for a COVID test (the same as a regular office visit). Your insurance may cover it, but if you don't want to risk it, just take a trip to the library (with a mask on if you're sick, obviously) and get one of the free tests and also some books for your possible sick day reading.
Vaccines
In spite of the end of the public health emergency, COVID-19 vaccines are still "available for free to everyone 6 months and older living in the United States, regardless of immigration or insurance status," per the Department of Health and Human Services.
(As far as boosters go, anyone over the age of 6 is now considered up to date on vaccines if they've received one dose of the bivalent Pfizer or Moderna vax.)
The federal government still has an apparently up-to-date vaccine finder tool that lets you search appointments by zip code and vaccine type.
The NYC Health website, on the other hand, is awash with outdated information – links to defunct vaccine sites, a 212-COVID19 number that told us they now only handle non-COVID vaccines, and in one case, an active link to a 2021 event pop-up event offering $100 to anyone getting a vaccine. (Sadly, no one we're aware of is offering a cash prize for vaccination at this point.)
The NYC Vaccine Finder website is still up and running for both the COVID-19 and mpox vaccines, but many of the sites linked are now defunct, so your mileage may vary. A representative for NYC Health & Hospitals told us that for vaccine scheduling and other COVID-related queries, the 1-844-NYC-4NYC (1-844-692-4692) help line remains active.
Major chains like Rite Aid or CVS have scheduling tools of their own, as well.
Masks
Time was, if you tested positive for COVID, NYC Health & Hospitals would mail you a care package of supplies including masks, hand sanitizer, a thermometer, and a couple of rapid home tests. No more!
Unless you happen to walk into a business or a medical office that still has a box of free masks at the door – or unless there's an unprecedented wildfire condition and the state government has to scramble to distribute N95s at MTA stations, as happened in June – there's not much in the way of a reliable system for getting masks free of charge.
The CDC has a portal that allows you to search locations like pharmacies, local health clinics, community support agencies and other organizations where N95s "may" be available. As with at home tests, it's a good idea to call ahead of time to check on supply levels and availability so you don't make the trip somewhere only to walk away empty handed.
Treatment
Here's some good news if you do pop a positive COVID test: New York City will still take care of you. The city is offering free home delivery of Paxlovid, the oral antiviral used to treat mild (i.e. non-hospitalization) cases of COVID.
Just make a telemedicine appointment with a doctor through Health + Hospitals' ExpressCare program, or call 212-COVID19 to get yourself taken care of. Yes, CVS will also do a virtual appointment with you to see if you qualify for a Paxlovid prescription, but that could run you as much as $60 for privilege.
If you found this helpful, become a member of The New York Groove today and support worker-owned independent local journalism.