deals
Stay forever spooky with these Friday the 13th tattoo deals
It's a perfect storm for tattoo sales this week; we rounded up more than 20 of the best in the 5 boroughs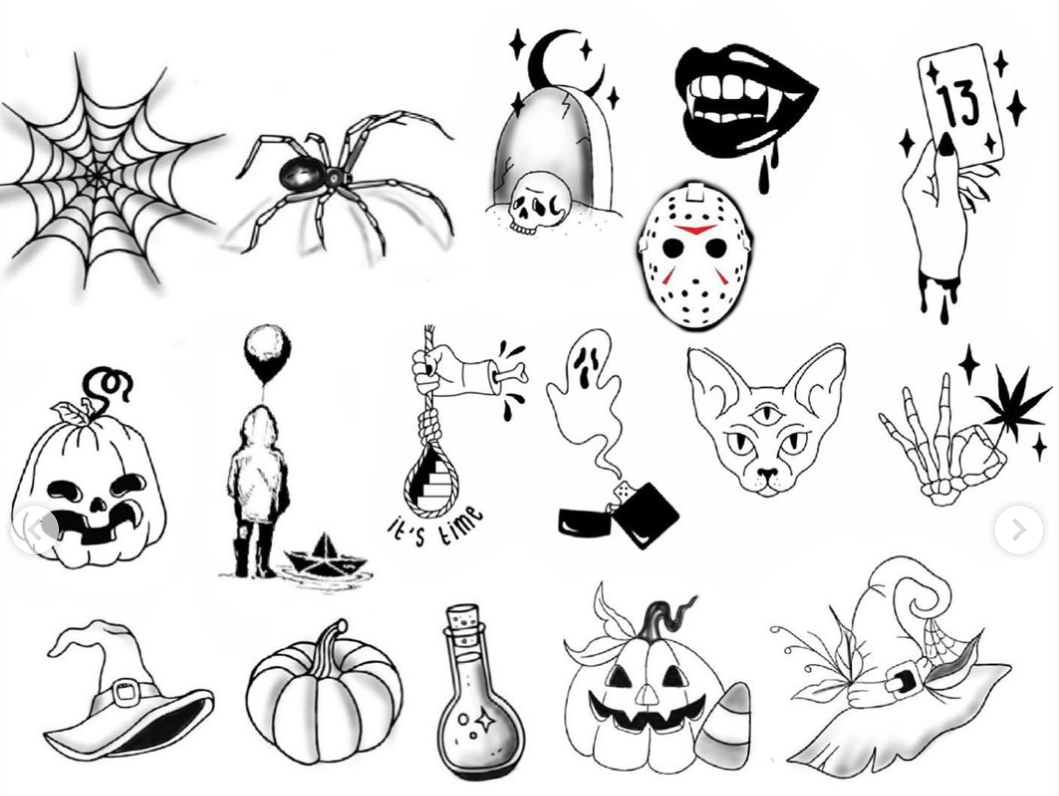 Bad news: you've spent all your money installing a giant Home Depot skeleton on your fire escape to freak out the pigeons and now have no more money for tattoos. Good news: It's about to be Friday the 13th, the Black Friday of the the tattoo world, when super-cheap sales abound. Even better news: It's a Friday the 13th in October, a perfect storm for flash-sheet sales. New York's tattoo shops are breaking out hundreds of seasonal, spine-tingling and silly designs that you can get for as little as $20 on Friday.
The first-ever Friday the 13th tattoo sale reportedly dates back to a 24-hour party in Dallas in 1995 hosted by Oliver Peck, who would later become a judge on Ink Master. Ever since, the date has held special significance in the tattoo world, a place inhabited by mostly very nice people who like to pretend like they are spooky and mean.
Time was, a Friday the 13th tattoo would actually cost $13; shops stopped doing that after the set up for each tattoo started costing more than $13. Now prices are often in the $31 or $130 range, but a deal is still a deal.
We rounded up every good Friday the 13th deal we could find in all five boroughs this week. Tattoos are first-come first served unless otherwise noted, and usually cash is preferred, but check with each individual shop first.
New York Hardcore
127 Stanton St., Lower East Side
Prices range from $33 to $131 at this shop personally endorsed by two members of Team Groove.
Bed-Stuy Tattoo
208 Malcolm X Blvd., Bed-Stuy
Tattoo prices start at $40 and up. Designs will be posted on Instagram today (Oct. 12).
Red Ink Tattoo Studio
​​315 W 54th St., Midtown
Now here's a real old-school tattoo sale: pieces start at $20 among 70 small and simple but neat designs.
Gristle Tattoo
55 Meadow St., East Williamsburg
The $100 flash sheet is available from noon-8p.m. at this all-vegan-ink shop.
Magic Cobra Tattoo Society
775 Driggs Ave., Greenpoint
Prices range from $120-160 and they're by appointment only so DM @tradbabynyc to book. Artist Christian Cervantes at the studio is also doing a flash sale, DM them directly for more info.
Rising Dragon Tattoos
51 W 14th St. #2R, Union Square
Book a spot in advance on Friday the 13th or Oct. 30 for 20 percent off the shop rate on "horror flash" and pictures.
Sacred Tattoo
424 Broadway, second floor, Soho
Designs cost $66, $100 and $130, with more designs available in the shop.
Red Baron Ink
238 W 14th St., West Village
From 10 a.m.-6 p.m. hundreds of custom flash from a variety of artists will be available, starting at just $31.
Hell's Kitchen Ink
764 Seneca Ave., Ridgewood (no, not Hell's Kitchen)
Loads of classic flash sheet designs are available for only $31 plus $9 mandatory tip. Appointments are accepted.
Electric Anvil Tattoo & Piercing
648 Franklin Ave., Crown Heights
Tattoos run from $100-400 from the flash book above, walk-ins only from noon-8 p.m.
Electric Lotus Tattoo
692 Fulton St., Fort Greene
No flash sheet or prices have been posted but the vegan-ink shop promises "a specific vibe for the upcoming holiday season."
FIB Tattoo Bar
1051 Flatbush Ave., Flatbush
FIB is a tattoo shop hidden under a bar, and there's plenty of flash sale options here for you to peruse after having a few (just kidding, don't tattoo drunk!). Check their Instagram for more designs, all of which cost $60.
The Catrina Ink
620 Flatbush Ave., Prospect Lefferts Gardens
You get two days — Friday and Saturday — to take advantage of this $31 tattoo sale featuring some classic spooky designs.
snttattoo
95 Morgan Ave., East Williamsburg
A rare flash sheet with some color options, these designs are available for $113; DM to set up an appointment.
White Lotus
158 Bedford Ave., Williamsburg
Flash deals from more than 100 designs are available all weekend long, and there's a bulk discount: two for $90, three for $130 and four for $160.
Ink and Water
346 Metropolitan Ave., Williamsburg
Pricing starts at $100 for the many designs that range from spooky to cutesy.
Nice Tattoo Parlor
177 Grand Street, Williamsburg
Flash sheet designs go for $130, with appointments available, with more designs available here.
Born For Ink
2429 E Tremont Ave., the Bronx
The shop has rebranded as Tattoo Shop of Horrors for the month so you know they're taking this day seriously. Tattoos run between $40 to $60.
Sunnyside Tattoo
42-16 Greenpoint Ave., Sunnyside
Design prices are between $150 and $350 and bookings are required, though if you can't make it in on Friday, a rain check is available for a $40 fee.
Ink Couture
6264 Amboy Rd., Staten Island
Tattoos range from $50 to $100 at this shop which is also turning the day into a party with DJs and free food and drinks.
Beyond Friday the 13th:
Three Kings
572 Manhattan Ave., Greenpoint
From 12-8pm on Oct. 28, 11 artists will be ready to administer flash tattoos for $31, $100 or $250. Enter the costume competition to win hundreds of dollars worth of gift vouchers.
NYC Tattoo Shop
42 West St., Greenpoint
The shop has a deal going on all month long, with tattoos that normally cost $300 on sale for $131, including color designs.
Red Rocket Tattoo
78 W 36th St., Midtown
All designs are $130 and are available now through the end of the month.
Hey boo: If you liked this post, support us by becoming a member, or make a one-time donation of any amount. 👻