The MTA
Last call for the MetroCard: OMNY is your god now
As of this week, the MetroCard's days are officially numbered. Let's talk OMNY.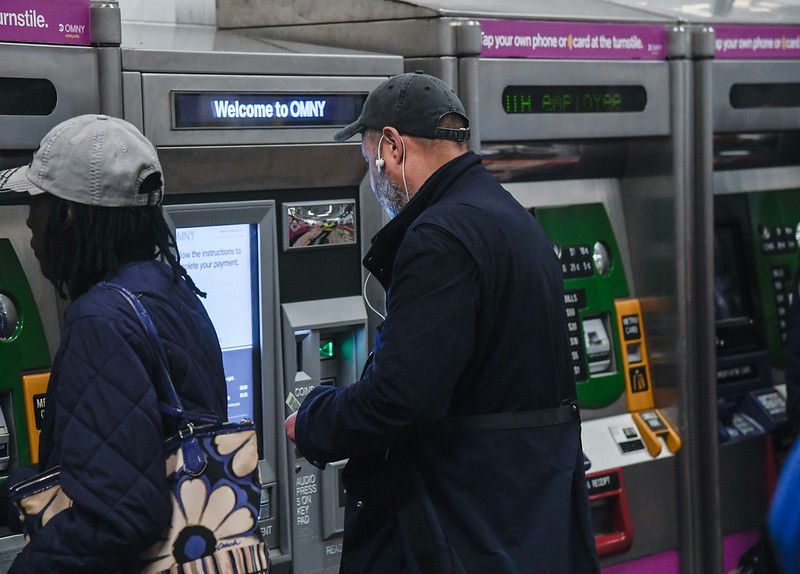 By Tim Donnelly
The era of the MetroCard — like the token booth, dollar pizza slice and sandwich that doesn't cost $20 — is almost at an end.
The MTA this week unveiled OMNY vending machines at six stations, making swiping ever closer to extinction. The machines allow anyone who wants to use cash, or just have a separate OMNY card, to still tap into the subway or bus.
All the MetroCard machines were supposed to be removed by the end of this year; but now the MTA says it is still a year and a half away from totally switching off the MetroCard system. So it's last call for furiously pounding away at those machines as a train rolls into the station, and last call for this meme (and this Shilpa Ray song, which will make less sense to future generations).
Soon, we'll be a tapping-only town. For now, at least, until the next evolution that involves something like facial recognition software that will automatically charge your ElonCoin account, but that's probably not happening until the fourth Eric Adams administration.
Even some long-time New Yorkers are still confused and intimidated by the new system, so we'll break down the basics of how it works now and why it's OK to finally say goodbye to the MetroCard.
How to tap
You can use OMNY with any tap-able credit card that has this symbol on it. Most credit cards have this technology now, but if you have an older card or your bank hasn't made the switch yet, you might not have access to it.
Using your phone to tap is usually easier because you just always at least know where your phone is, despite all your Screentime warnings. You don't need a separate app, you just use your phone wallet/Apple Pay/whatever pay and hover your phone screen over the OMNY reader.
Yes, some people have complained about OMNY because they don't want to have their phone out all the time when going through the station. But everyone already has their phones out all the time; if someone was going to snatch a phone, it's not like you're presenting them with a rare option when you tap in with one.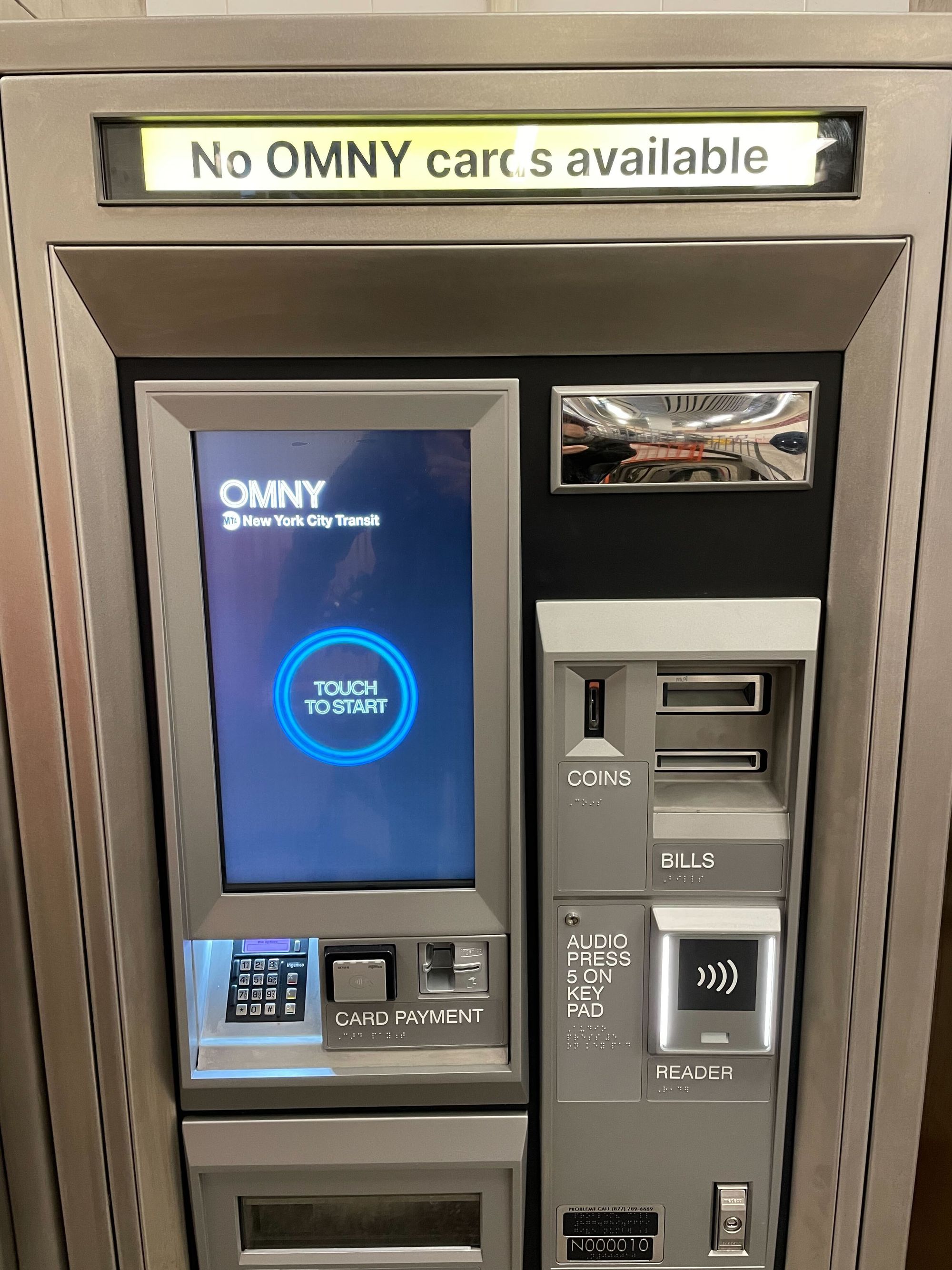 Using your phone is just easier than digging through your wallet for a card, which slows down the system, as does watching a tourist struggling over and over again to nail a crisp swipe on a MetroCard.
If you're an iPhone user, make sure to go into your Apple Wallet and turn on "express transit settings." This lets you tap without unlocking your phone.
Why else would someone want an OMNY card?
Some people desire more privacy or just don't want to do everything in their life from one device. Over 300,000 New Yorkers are "unbanked," meaning they don't have access to traditional bank accounts needed for a tap-able device; others just prefer to work in cash.
Before the vending machines were installed, New Yorkers could buy or reload physical OMNY cards at grocery and convenience stores across the city (you can still find one here). The new cards cost $5, which Hell Gate called a "privacy tax." The new card machines have "a limited-time introductory offer" that lets you get a new reloadable card for $1, the same price as a new MetroCard.
Or, you can buy a single-ride OMNY ticket for $3.25, which is more than the regular fare of $2.90, so unless you only ever need to take literally one subway ride in New York City ever in your life, that is maybe a hard sell.
The best thing about setting up your phone like this is that now you can use public transit in lots of places now too. No more buying a new transit card or downloading a new app in another city. Philly's SEPTA switched to a tap-pay system in September, for example; I got on a bus in Portland, Oregon last summer and tapped my way in.
Can OMNY track my every movement around the city and is it just the latest interaction of our techno-dystopian surveillance state that turns even the simplest interaction into an exploitable data set?
Can it track you? Yes. Does it? Kind of. In September, the MTA turned off a "trip history" feature that allowed anyone with a credit card information to see their past seven days of trips. Last year, people declared OMNY could be a "privacy nightmare." Critics called that feature a gift for stalkers, creeps or abusive partners.
"As part of the MTA's ongoing commitment to customer privacy, we have disabled this feature while we evaluate other ways to serve these customers," an MTA spokesman said at the time.
Now, if you set up a password-protected account on the OMNY home page, you can still look at your 12 months of travel history.
But the MTA sharing location data is nothing new. The agency has for decades shared information with the NYPD to help track a suspect's identity and prove or disprove alibis. That system was used to help track subway shooter Frank Robert James last year — though he was only caught after he called Crime Stoppers on himself.
Will OMNY work with reduced fare or senior discount tickets?
Yes, the fares will stay fair. The MTA explains how to transfer your reduced-fare ticket here.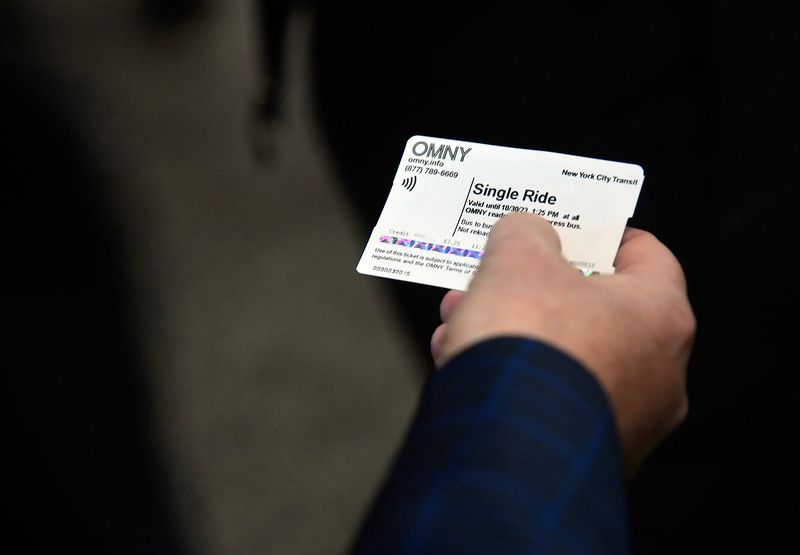 What about my precious unlimited MetroCard?
One time I saw a comedian saying something like, "I got the new iPhone, a vape pen and an unlimited MetroCard; I am floating through SPACE." This was a great feeling if you've ever lived it but that era is coming to an end too.
OMNY instead works on a fare-capping system: you'll never pay more than $34 for seven days of rides in a row, which equals out to about 11 rides over that time.
It can work out to be slightly more expensive than an old-fashioned unlimited card if you're doing the full month: four weeks of fare-capped OMNY taps will cost you $136, the unlimited costs $132 for 30 days. (A 7-day unlimited MetroCard, however, is also $34, so on the weekly front the two systems are even.)
Will this make my commute faster?
Swiping a MetroCard does actually slow down the system for riders. An old study from the Public Advocate's office in 2005 found that 28.75% of all swipes in New York City fail, with the worst failures in lower-income neighborhoods. That study called for a contactless solution, like OMNY, to help fix that problem.
Can you finally use OMNY on the godforsaken AirTrain?
Yes, at long last you can. Even as OMNY rolled out across the city, entry to the AirTrain to JFK stubbornly remained MetroCard-based, and anyone who has been there trying to catch a flight knows the horror of arriving at the train entrance to find a line standing in front of the one MetroCard machine that's actually working that day.
Should you have to pay for the AirTrain at all? That's a different story. For more local travel, you can tap to pay for the Roosevelt Island tramway too.
What about if you use OMNY on the bus and the cops inspect to see who paid?
Those bus cops, known as the Eagle Team, now have special handheld readers that you can tap and prove you paid on the Select Bus Service routes. Those express routes require you to pay before getting on the bus and then hold on to your paper receipt in case anyone comes to inspect. Having it on your phone or card history means you can stop worrying about the receipt.
But that Supreme-branded MetroCard seemed like such a great way to scam people out of money to help fund the MTA?
It's true, putting a dumb logo on a thing that people will line up to buy and then not even use was one of the MTA's most savvy fundraising moves. Sadly, the days of branded collectibles like this — and the much more exciting David Bowie ones — are probably gone. They might make a special logo on an OMNY card someday, but it just will never hit the same.