stuff to do
How to become a fan of The New York Liberty, the only Good sports team in the city
If you haven't been to a WNBA game yet, here's a crash course to catch you up.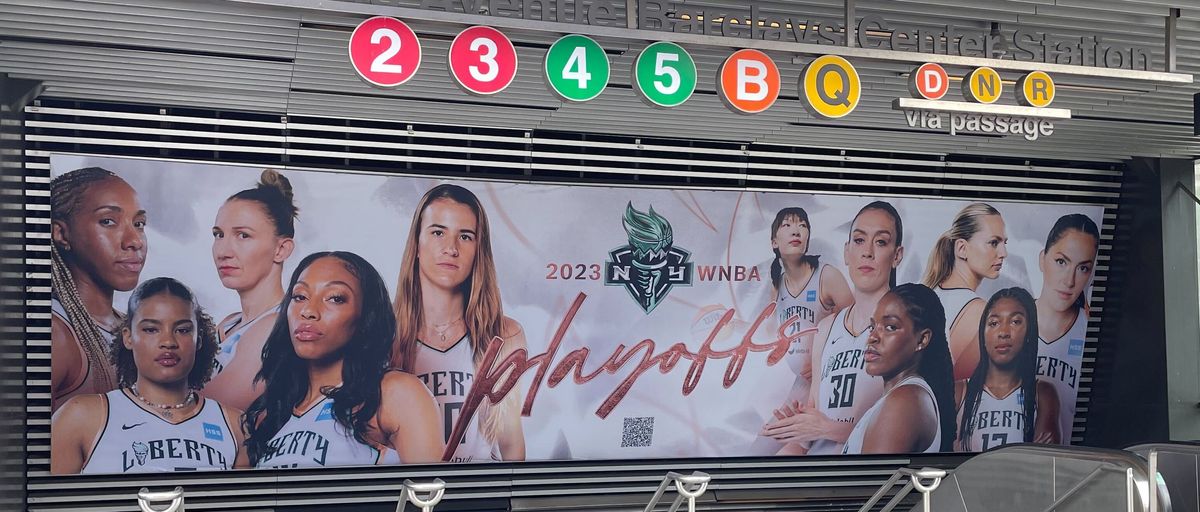 By Veronica Garza
The WNBA has a special place in my heart as a basketball fan AND as a lesbian (more on that later). Growing up in Texas, my favorite early teen memories are seeing the Houston Comets play (and dominate) during the league's first five seasons. Unfortunately, I am still the same height as my teen-self, so my professional basketball dreams died in 1999. However, there is no height requirement for this transplant to be a New York Liberty fan, so here I am, and it's playoff time!
The Liberty are the team to watch. They've got a star-studded lineup and are coming out of the regular season with a 32-8 record. Plus, Liberty games are my favorite summer activity. The sideline entertainment, the diverse, energetic, loyal fanbase, the intensity of women's basketball where they actually play defense (take that, NBA), and most of all, the affordable tickets. (Honorable mention to the air conditioning unit at Barclays getting me through the heat this summer.)
So if you haven't watched a game yet, now is the time. Hell, buy a ticket to Friday's playoff game. Here's a quick run down:
"All I know is they're a WNBA team"
Maybe you haven't had a chance to catch a game. That's ok, since the team's creation in 1997, you've only had 25 years to find time. The Liberty has called New York City its home since the beginning and recently made the move to Brooklyn, in 2020. You've probably walked directly past games heading to the Target at Atlantic Center for candles, or as you were on your way to the KITH Cereal Bar. Brooklyn, I get it. Geez.
Why an elephant? There's a story about P.T. Barnum walking 21 elephants across the Brooklyn Bridge in 1883 that ties into this, but who cares. It's a dancing elephant! Initially the mascot was a dog, but Maddie (short for Madison, as is Madison Square Garden) has since retired. Actually, it's been over 20 years, I want to say she's dead, but I won't.
Ok, she's dead.
Home court: Barclays Center
The team started its WNBA career playing at Madison Square Garden, then in 2018 moved its home court to the Westchester County Center, the home of the NBA G-League's Westchester Knicks. The Libs were then rescued from this purgatory in 2020 and now call Barclays home. (There was a short stint at the Prudential Center but, Jersey, eh.)
Years in the league: 26
Conference titles: 4
Ticket prices: HELLA CHEAP.
Now that you've got the basics, here are a few tips to being a Liberty fan. Jump on the bandwagon, we have the room!
"Everything in NYC is so expensive though."
First off, WNBA tickets are mad cheap. The average price of an NBA ticket is $90 while WNBA tickets typically cost about $18; tickets for Friday's playoff game are listed at about $35 at press time, other tickets go for $50 which, after the MTA hikes, equals what, four subway rides? Want courtside seats? Ok, Moneybags, those run about $2,000.
As someone who pays $75 to sit in the very last row (yes, the absolute last row) of the Knicks/Nets at Barclays, I recommend you ball out at a Liberty game. And don't be scared to take a chance on the scalpers outside. New York City is about the hustle, baby!
What do I wear?
Official team colors are seafoam green, black and white.
Fine, you can wear your Knicks or Nets jersey and just buy something at the game. Remember they need your cash! Note, while it is a WNBA game, gear at Barclays has an NBA price (reminder: they need your money). Or dress up like Lady Liberty and join the Seafoam Army.
What can I expect at games?
Even if you are not a basketball fan (what's wrong with you?) you will still have a great time at Barclays. There's energy, the diverse crowd, there's Sandstorm (you know Sandstorm — the 1999 dance track that has emerged as a staple for live sports events) celebrity appearances, and my personal favorite, The Timeless Torches — the age 40+ dance group that performs at each game.
Liberty games are super family friendly, too; Sunday games usually offer face-painting and player meet-and-greets.
Any players to look out for?
ALL OF THEM. This team has not just depth, but potential, and with the arrival of the AP WNBA 2023 Player of the Year/single-season scoring record holder, Breanna Stewart, this season has been nothing short of a highlight reel.  
But also get familiar with Betnijah Laney (my forever crush) who just extended her contract with the Liberty. After earning the league's 2020 Most Improved Player Award, Laney continues to be a guiding force these last three years making the playoffs. Once again, I love you, Betnijah.
There's Marine Johannes aka the only reason I want to improve my jump shot AND learn French. And at forward, Jonquel Jones has been holding it down all season and proving why she was the 2021 League MVP.
Last, but not forgotten, is Sabrina Ionescu, the first-round draft pick and all-time champion/record holder (NBA or WNBA) for the 3-point contest.
Notable mention: Stefanie Dolson, who I truly want to come with me to get blow outs and brunch on Sundays. She's got "Live.Laugh.Love" in her Insta bio. You know she can brunch!
Finally, gay shout out to Courtney Vandersloot who married her former Chicago Sky teammate in 2018 (talk about love AND basketball).  
For My Fellow LGBTQIA+ peeps
WNBA games are basically Pride Part II: With A Vengeance. Chances are you will see someone you dated within the last year OR there is someone there that you will date within the next year. There are no actual statistics to back this up, but I am highly confident in this take and encourage anyone that is on "the team" to attend a game to prove me wrong.
What if I can't make it to a game?
The WNBA playoffs will air on ESPN, ESPN2 and ABC. And because everything is streaming, feel free to log into your mom's Hulu Live TV account if you don't have access to tv channels.
Additionally, absolutely check out Unfinished Business (Amazon Prime), a doc from the Liberty's roller coaster 2021 season that is peppered with untold quarter-century history of the groundbreaking league, and commentary from former star Liberty players Sue Wicks, Crystal Robinson and Teresa Weatherspoon (look them up if you haven't already, geez).
"Listen, I like watching the Nets or the Knicks."
I'm not saying you have to give up the Nets or the Knicks. We get it, you enjoy disappointment and anger. But let's try good vibes for once. Because unlike the local NBA teams, or the Mets, or the Yankees, or the Giants, or the Jets or even the Rangers, the Liberty actually have a claim as one of the best teams in their entire league and could bring home a trophy this summer.
Liberty games remind me of Mets games; like I know the person sitting next to me. And if I don't know them, we will probably high-five a few times during the game. No offense to Yankees fans. I just don't have time to do eight post-game shots at The Dugout Bar on a Tuesday.
Liberty games also feature defense, that side of basketball that has disappeared more than Lebron's hairline over the last few years.  
Despite the good vibes, you are still allowed to boo when the opposing team shoots free-throws (a true NYC highlight of mine). And it's family-friendly, affordable fun; so take your wife/partner/side-piece out with your kids (yes, be daring!). Do the Floyd Mayweather and text throughout the whole game (Yes, I saw you at the game, Money. Video available upon request).  
And there is nothing cuter than a mom telling her six-year-old daughter she is not booing hard enough during free throws.
And if you don't already follow the team's Insta page, consider it, if anything, for game day 'fits. WNBA outfit photos give me style tips. NBA outfit photos give me anxiety. Why are they always looking directly to the ground in each photo? If you fellas look up, maybe you can take notes on defense (I said it again).
So go to the game! Part of the New York City experience is attending games for one of its dozen major sports franchises (yes, it's that many and most are bad right now). And let's be serious, you can't afford Knicks tickets anyway.
Let's go Liberty!