How to call a cab without using Uber or Lyft
The city's classic car services can offer an elusive double whammy: getting a cheaper ride and having the smug satisfaction of getting around the way New Yorkers did before Silicon Valley poisoned the city's cab-hailing well.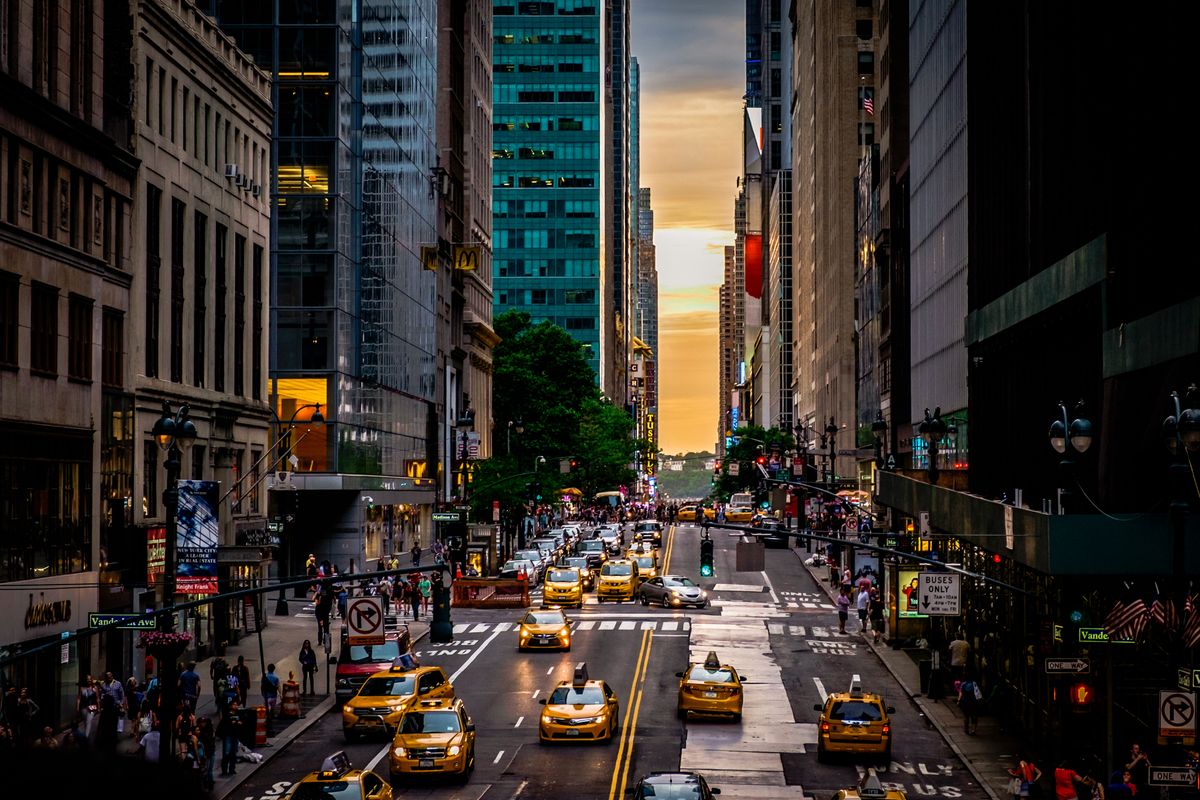 By Virginia K. Smith

A person might have any number of reasons for wanting to avoid rideshare apps like Uber or Lyft. Maybe you want to get off your smartphone and commit to the luddite flip phone lifestyle. Maybe you can't justify the exorbitant price hikes the apps have piled on in the past two to three years.
Maybe you'd simply prefer not to funnel money to tech giants who are willing to sue for the privilege of continuing to pay their drivers notoriously unlivable wages. (The lawsuit ultimately failed, but still.) It's possible you're lured by an elusive double whammy: getting a cheaper ride, and having the smug satisfaction of getting around the way New Yorkers did before Silicon Valley poisoned the city's cab-hailing well.
Or maybe, like me, you found yourself stranded in the rain outside the Knockdown Center on Halloween night (on a Monday) last fall, utterly unable to summon a car home amid throngs of other people doing the same thing, zero available yellow cabs in sight, and reception so spotty that trying to finalize a rideshare via app resulted in nothing but a series of endless pinwheels.
After probably 20 minutes outside fruitlessly refreshing and relocating in an attempt at better reception – and finding that no nearby buses were on the way for the better part of half an hour – I remembered an old friend whose number was still in my phone: Bushwick Car Service.
As a person who once navigated this city 1) with a Blackberry and 2) before the rise of ridesharing apps, any late-night trip meant calling a car service, waiting the requisite "seven minutes!!" quoted over the phone, and being escorted home for a reasonable price, determined in advance (if you knew enough to make sure to ask).
In 2023, I found the routine was blissfully unchanged. I called, gave them my cross streets, and within a few minutes a car was whisking me home to Bed-Stuy for a predetermined $16 fare, before tip. (As with any car service, I double checked who they were there for and the agreed-upon price before clambering into a stranger's vehicle alone in the dark.) Any prices I'd been able to load on the apps that night had been at least double that, thanks to biggest-party-night-of-the-year surge pricing.
          🚕
Time was, if you spent any notable amount of time in neighborhoods without readily-available yellow cabs, your contacts were stacked with at least a couple of go-to car services like Arecibo or my beloved Bushwick. (Witness: this vintage 2012 listicle from Complex that only ranked Uber as number eight on its list of the 10 best car services in the city, noting that it was "easily the most technologically advanced" option for … simply having an app.)
Of course, these smaller local car services are still in existence and on the road, but over the years I've fully defaulted to the apps, succumbing to the siren song of easy user interface and artificially deflated prices. I'm not alone in this.
An (unscientific) social media survey on my friends' and followers' car-service habits yielded a flood of responses along the lines of "I used to call them all the time in the '90s/the aughts" and "I still use them going to/from the airport!" Many have pivoted to apps like Arro and Curb that allow you to hail or schedule rides with nearby yellow cabs, which do tend to be notably cheaper than rideshares these days. (In 2021, CBS reported that, based on their findings, yellow cab fares in Manhattan averaged 35% to 83% cheaper than a comparable Uber or Lyft ride.)
But the problem with yellow cabs is more or less the same as it ever was: the available options tend to be few and far between in areas that don't fall into the category of "Manhattan," "Williamsburg" or "the airport." (The number of yellow cabs that have been driven out of business by Uber and Lyft in the past handful of years has only made the problem worse.)
In 2021, a worker-owned option called The Drivers Cooperative (and their app, Co-op Ride) came on the scene with a stated mission of reducing the outlay of expenses shouldered by drivers, giving them a larger cut of the total fares earned, reducing prices for riders, and setting an established minimum wage of $30 per hour. It's been my anecdotal experience that finding a nearby ride on Co-op — even in Manhattan — is anything but a given.
That said, the Cooperative's most recent annual report showed exponentially increasing revenue growth since the initial launch, meaning they could still be on their way to reaching critical mass. Our city's future as a worker-owned cab utopia may gain a decisive foothold yet.
Some car service diehards remain, particularly parents who say it's easier and more reliable to book a ride with a car seat via car service rather than rideshare. (One person mentioned relying on Ecua car service in Astoria for services including the trip to the hospital for the birth of their first child, a testament to trust if ever there was.)
But in my own orbit at least, their numbers have dwindled since the rise of the apps. More troublingly, some newer arrivals to the city seemed entirely unaware of neighborhood car services. A younger coworker of mine who moved to the city during the pandemic and knows every money-saving city hack under the sun claimed to have "literally never used" or heard of this longstanding, potentially much cheaper option
Dollar-for-dollar comparisons

Emphasis on "potentially." After my rescue from Halloween cab hell in Ridgewood, I felt ready to evangelize about a return to the old-school services, with all the excitement of an aging scold telling anyone who'd listen, "You can get a way cheaper ride if you're willing to just make a phone call!!!!!"
For a few reasons, this turned out to be not strictly accurate. For one, a lot of these services — Eastern, Northside and Arecibo, to name a few — do in fact have their own apps now. They tend not to be the smoothest tech in the world, but for the truly phone call averse, they'll get the job done.
For another, the price differentials aren't reliably that dramatic. At around 11pm on a recent weeknight, I toggled between services seeing how much that same ride home from the Knockdown Center would cost me, and how quickly the car would arrive. The numbers broke down as follows (all prices quoted below are before tip):
Lyft: pickup in 1 minute, $20.14
UberX: pickup in 2 minutes, $21.89

Curb: pickup in 5 minutes, $18.56
Co-op Ride: pickup in 6 minutes, $18.87 (the app also occasionally flashed a notice that no vehicles were available before returning to the quoted ride and price)

Eastern: pickup in 11 minutes, $26
Arecibo: spent several minutes on the app as it scanned for a ride, then several minutes on hold on the phone, eventually gave up
Bushwick Car Service (contacted over the phone): pickup in 5 to 7 minutes, $18

Not a particularly drastic spread in prices on a normal night out, though yellow cabs via Curb did firmly stand out as the cheaper option, if only by $3 or $4.
The airport, however, was a different story. To pre-schedule a pickup on a weekday morning at 8am from Bed-Stuy to JFK, the price breakdown was as follows (again, prices are before tip):
Lyft: $49.73
UberX:  $58.88

Curb: $37.54
Co-op: No schedule ahead option, but a ride in 7 for minutes $48.77

Eastern: $54.50
Arecibo: No quote in app, flat rate to JFK from "Park Slope area" listed online at $50
Bushwick: Airport rates broken down by neighborhood; "Bushwick to Cooper Street" to JFK listed at $35; $50 to $55 from "Delancey & Lower East Side," etc.
For a trek as long as most airport rides from within the five boroughs, the comfort of a flat rate (and reliable pre-scheduled pickup) is fairly invaluable, especially when that flat rate is already cheaper than what's on offer from Uber or Lyft. Ridesharing apps offer the option to schedule ahead, sure, but anecdotally, people didn't seem to trust them with anything as high stakes as an early morning airport run.
"It's reliable, I know the drivers know where they're going and are used to making that run, I can schedule them to pick me up ahead of time, and it just all takes a load off my mind," said Rosie, a Park Slope native. "Also, my parents always have a coupon somehow? And there's something of the old stubborn New Yorker thing in me that has me prefer a towncar to an app ride."
A number of other people offered versions of the same sentiment; when it comes to the airport, local car services tend to be cheaper, and more reliable for advanced scheduling.
           🚕
Why spend all this time shuffling between services to potentially save a few bucks here and there? A July 2022 study from online lender NetCredit found that Uber rides are more expensive per mile in New York City than in any other city in the U.S. (The same study claimed that it could soon be cheaper to take a helicopter to the airport instead of an Uber, a fresh horror we won't be unpacking here today.) That money adds up fast, and those are dollars I could be spending on things like rent, or cocktail-laden multi-borough boat tours.
Ultimately it would seem that no, I can't simply recapture the budget-friendly transportation ecosystem of my 20s with this One Weird Old Trick. But I can certainly still prattle on to my Gen-Z colleagues about the merits of keeping your local service's number in your phone.
Arguably more important, I can do some more effective comparison shopping in my own cab-hailing routine, and do a little extra legwork to spend my money with companies I don't hate. At the very least, we'll always have JFK.