burning questions
How to-go drinks managed to flop in New York City
"I don't even know the rules right now, to be honest," one industry insider said.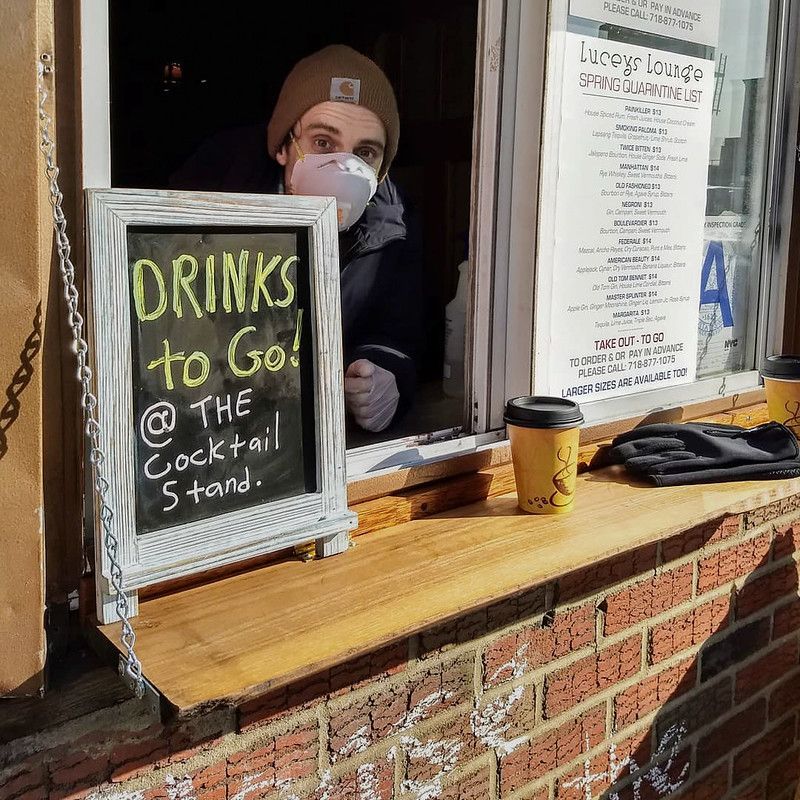 By Tim Donnelly

Turning the Big Apple into the Big Easy wasn't so easy after all.
New York state's attempt to permanently legalize to-go drinks after the pandemic has been a dud. Complicated rules, food requirements and lackluster awareness have resulted in sparse opportunities for New Yorkers to snag a cocktail or beer to-go while walking around this summer.
Bartenders in the city say they just don't want to bother with serving to-go drinks, and several restaurants said they didn't know to-go drinks were still legal at all. During the dark days of the pandemic, New Yorkers saw the chance to grab a to-go drink (or "walktail," if you like) as a rare bright spot. The idea was wildly popular, and some hoped the pandemic would make the option permanent in a way that would reshape the city, much like open streets or the outdoor dining programs did. But that hasn't happened.
"I don't even know the rules right now, to be honest," Dave Rosen, co-founder of Brooklyn Allied Bars & Restaurants, who also helps run several bars, told The Groove. "I don't think you're going to see the return to that kind of wholesale, walk down the street to grab to-go drinks, walk on Bedford Avenue with a cocktail, thing."
How to-go started
To-go drinks debuted in spring 2020 as a way to help restaurants survive the COVID shutdown, and help New Yorkers stay sane while nothing else was open.
Then-Gov. Andrew Cuomo abruptly ended the program in June 2021 when he declared an end to the COVID state of emergency. This rankled many restaurant and bar owners, who had stockpiled to-go drink supplies or batched cocktails for months to come, according to the New York Times. One bar owner told the Times he had heard of no problems caused by the program.
Governor Kathy Hochul pledged to bring to-go drinks back when she took office. Excitement was high that the city was entering its New Yorleans era, matching our pandemic-borne appreciation of outdoor activities and a good daily walk with more liberal, European-style open container laws.
Hochul, who took over the governor's seat after everyone decided it was time for Cuomo to-go, made the pledge part of her reelection campaign in 2022. She touted that promise in her first State of the State address that year.
"We're also going to do something bars and restaurants have been asking for: to once again allow the sale of to-go drinks – a critical revenue stream during the lean times last year," she said in that speech.
The state officially adopted a version of it in April 2022.
How to get a to-go drink now (in theory)
Here's how it's supposed to work: a bar or restaurant in New York City is legally allowed to serve you a to-go drink if you dine in or order take out, but only if you order a "substantial food item" first. The state released a specific list of what counts as "substantial": sandwiches, soups, salads, wings and hot dogs (which are listed separately from sandwiches here, if you care about that debate); things that are not "substantial" include a bag of chips, a bowl of nuts or candy.
The law also says that obvious efforts to get around the law aren't allowed either: an "unreasonably" small portion of soup, a serving of canned beans (I was actually served this with a to-go drink at a bar in Bed-Stuy in summer 2020), a handful of lettuce or just charging extra on a cocktail to pretend food was served.
Alcoholic beverages must also be packaged in a container with a secure lid or cap "sealed in a manner designed to prevent consumption without removal of the lid or cap by breaking the seal. What kind of seal, exactly, is not listed. (See the full list of rules here.)
No-go on to-go
In theory, this should mean you could get dinner at a hot spot like Lucien in the East Village, and then take a cocktail or wine with you back to your apartment or to your next destination. Except Lucien doesn't offer to-go drinks either.
"I don't think you can still get that," a lightly confused employee told me this week. "We don't even have plastic cups."
You still cannot legally drink in public, and Mayor Eric Adams has been increasing enforcement of that  since he took office. Open-container tickets surged this year under Mayor Adams, with the NYPD writing 10,000 summonses over the past year, according to the New York Post — more than the previous four years combined (an open container ticket fine is still only $25, just FYI).
In 2020 and 2021, after Cuomo also added a "substantial food" rule, bars and restaurants famously got creative.  This led to the rise of Cuomo Sandwiches and other sly methods that bars — especially those who never had a kitchen — worked around that requirement. In 2023, no one is bothering.
"We'd rather have people in here starting tabs," said Josh Still, a bartender at Maiden Lane in Alphabet City. Still said he will get a maximum of two or three customers a week who ask for to-go drinks but overall he said it's not that common. The cheapest food item he can offer to-go wanters is a $3 bagel with nothing on it.
To test the availability, I visited several bars around what I consider one of the city's most ideal green spaces for to-go drinking: Tompkins Square Park, where people watching and paper bagging beers were common well before the pandemic. I visited eight bars and restaurants near the park, and only two said they would do to-go drinks: Maiden Lane and Horus Cafe, the latter of which said they would give me one if I bought an appetizer, and didn't mind ingesting some hookah smoke while I waited.
Horseshoe Bar (aka 7B), which had a convenient to-go window directly facing the park in spring 2020, stopped doing it ages ago.
"No one's really asked that in a while," one bartender told me.
Of the 14 restaurants and bars I called or visited this week in Manhattan and Brooklyn, only five said they could do to-go drinks, but only two actually stated the rules of the program correctly. One of those, White Oak Tavern in Greenwich Village, said it would gladly serve you a to-go drink, after you order an entree, all of which are in the $25-$30 range, which is more than buying your own bottle of liquor.
Several other establishments said they didn't even know about the program at all. A few said they thought it was flat-out illegal now.
Not everyone was a fan of it to begin with. LES Dwellers, a group that battled the spread of bars in the Lower East Side before the pandemic and has been fighting outdoor dining in recent years, shared a picture of a beer bottle on a curb in disgust.
"NYC is teetering on the edge of disorder —now we are going to let weekend party tourists drive in, party it up curbside & drive back home?" the group tweeted in April 2022, right before Hochul passed the new program. "Not wise to turn NYC into one giant Bourbon Street! Some neighborhoods will suffer more!"
The city is unlikely to become Bourbon Street on Broadway anytime soon. Rosen said bar owners are now focused on more pressing issues, like fees associated with delivery apps or defending the outdoor dining program.
Andrew Rigie, executive director of the NYC Hospitality Alliance, told The Groove that while the program is a nice perk and that every dollar helps businesses, it's not a priority.
"Drinks to-go are not as critical now as they were during the depths of the pandemic," he said in an email.
Of course, many bars in the city have always given you a cup of frozen drink and turned the other way when you walk out the door; others sell in-house nutcrackers and the like, and bodegas still have skinny paper bags on hand for your to-go beers. To-go drinks will always be happening in New York City, just not under the state's supervision.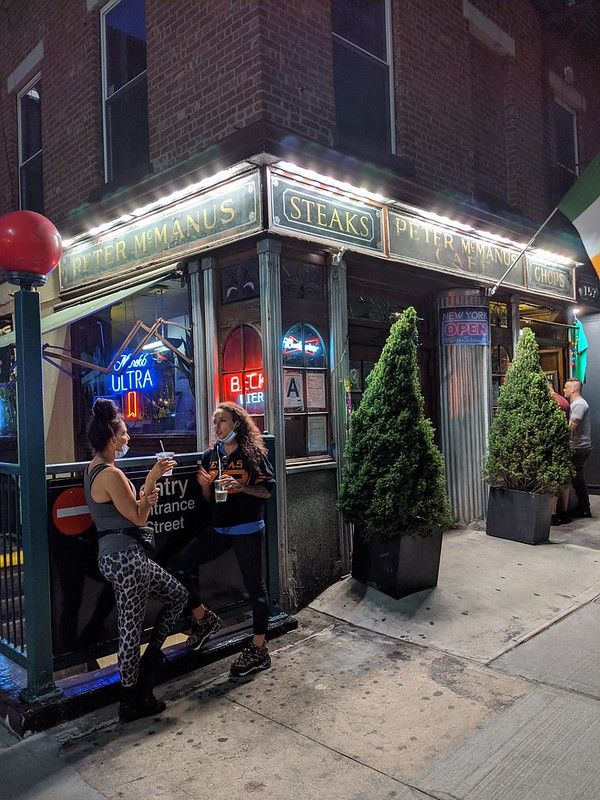 But some city drinkers fondly remember how the to-go era of 2020 brought neighborhoods together in new ways, especially when people were feeling isolated.
Mike Critchlow, a regular at Maiden Lane, recalled taking to-go drinks to a bench in Tompkins Square Park during the high pandemic. He soon realized the regulars from several bars in the neighborhood — The Grafton, Doc Holliday's and others — would each congregate in specific spots in the park. The stretch of East Village had temporarily merged into one uberbar.
"Each bar had their own bench," Critchlow said. "You met the regulars."
Now, he says, he'll pop in for an afternoon beer but doesn't think he'll do to-go drinks again.
"You could make the drink yourself at home."