bicycles
Get on the bike bus: A new movement is changing how kids get to school, and you can help
Everything you need to know to start your own bike bus, or help out one in your neighborhood.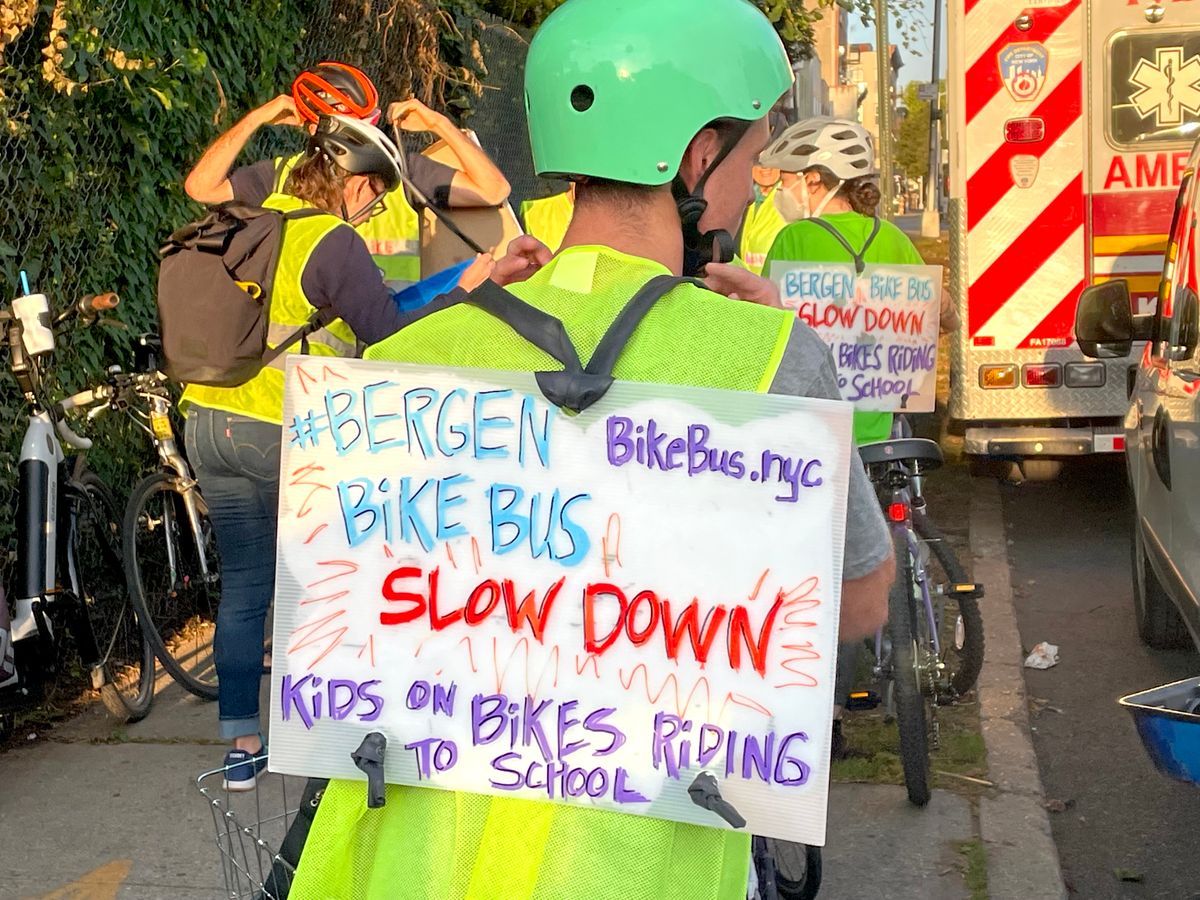 By Tim Donnelly
On Wednesday morning, I got up early, donned a green high-visibility vest, strapped on my bike helmet and biked to school for the first time in 30 years.
I was tagging along for the first voyage of the Bergen Bike Bus this school year, a collaborative effort between parents, teachers, students and transportation activists to get kids to school safely. It's partly a healthy, community building joyride, and part kidical mass — a mini version of the Critical Mass events that take over major roads to show what the city could look like if we didn't give so much space to cars.
It's also a tremendous serotonin boost: if you are in need of a pick-me-up, I highly recommend helping escort a group of adorable children on their little bikes five miles through Brooklyn first thing in the morning, where you will be pelted with enough applause and neighborly "good morning!" tidings to remind you that New York City is sometimes the greatest small town in America.
The bike bus movement started in Spain in 2021 and has been growing stateside in the past few years, arriving in New York City last year. In Spain, the bike bus has grown to hundreds of riders; in New York, the buses have smaller crowds, but they dream of being able to take over full streets one day.
On Bergen Street, the bus is both a joyful celebration of green, kid-powered transportation and a backhanded indictment of our piss-poor street design. It should not, to be perfectly frank, be this hard for kids to bike to school, especially on Bergen Street, one of the major bikeways in all of Brooklyn.
But bike buses — there are now several in Brooklyn and Queens — are a solution to all the traffic, pothole and construction problems that bedevil even adult bikers. A school bus usually only goes to one school, but the bike bus picks up kids going to any of the dozens of schools off the Bergen Street route; and the schedule makes sure they arrive on time too.
"It's super fun to see the parents biking with the kids. The relationships you build are definitely irreplaceable," Emily Stutts, a bike bus organizer and teacher at PS 372, told The Groove. "I just wish we had an infrastructure and environment that supported that."
Here's a rundown on what it takes to start your own bike bus for your kid's school, and how to grab your own bike and join up with one to make sure these cycling shorties make it to school safely.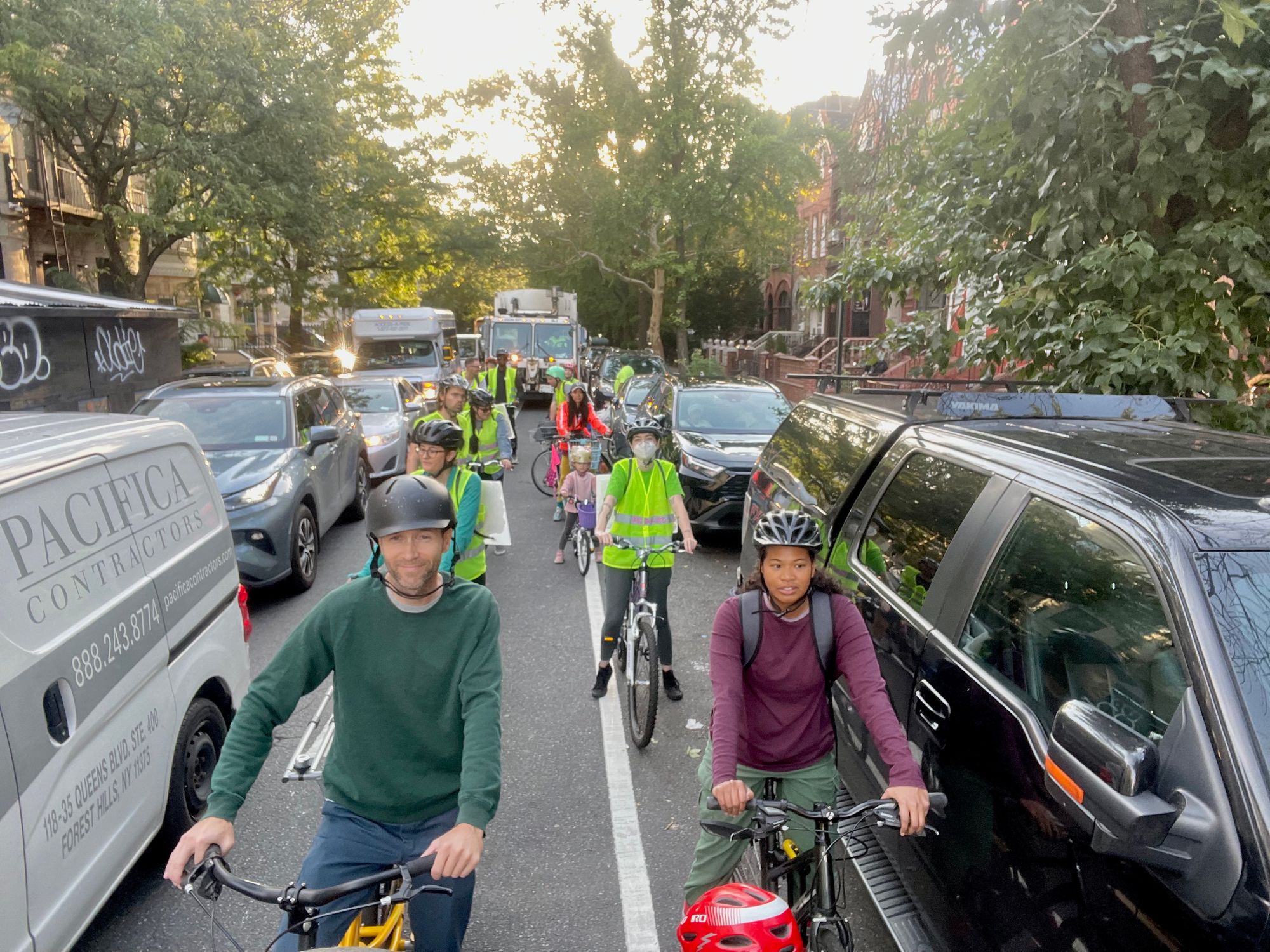 Small people, small start
The Bergen Bike Bus launched in October of last year, and now makes weekly trips from Rockaway Avenue in Ocean Hill to Court Street in Cobble Hill — basically the entire length of Bergen Street. It began with just a few families who were interested in biking and grew to as many as 50 people last year.
Stutts advises starting with a very small group to get into a flow and learn the route. Last year, she first approached a few parents who she knew already biked to school on a regular basis. Then some teachers got involved. Eventually they printed flyers, contacted other parents and advertised it through the school's social media.
"Don't take a huge bite right away," she said. "You want a success to build on. People are just going to keep wanting it. It's amazing, the desire for it."
Equipment check
A school bus is bright yellow; a bike bus tends to be neon green. That's the color of the high-vis vests volunteers and some kids wear while biking to school. Basically the only equipment you need to run a bike bus is stuff to help drivers see you, and a speaker to soundtrack the ride.
One of the Bergen Bike Bus volunteers made wearable signs, using bike tire tubes as straps, that explain what they're doing: "SLOW DOWN, KIDS ON BIKES RIDING TO SCHOOL." Some drivers on Wednesday, I regret to inform you, still did not slow down, but most people do read the signs and comment on them, Stutts said.
"I find they're super helpful and they communicate everything to people that we're doing," Stutts said.
Chris Roberti, a parent who organizes monthly group rides to PS 110 in Greenpoint, uses a megaphone another parent donated, and deputizes someone as the medic, with a first-aid kit on hand for scrapes. They'll bust out Pride flags and Halloween decorations for themed rides too.
Music is key to any good group bike ride. The last time I did a Critical Mass in late October 2019, for example, someone brought a giant speaker attached to a trailer behind her bike. She fired up "Thriller" right as hundreds of bikers started to bomb through Times Square, blowing the minds of the gape-mouthed tourist crowds standing on the sidewalks. It ruled, easily a top-five biking experience in my life. Bike buses aren't taking Times Square (yet!) but good tunes are the recipe for a good morning ride to school.
Stutts puts a speaker on her bike to lead the gang down Bergen and plays good-vibes pop music: things like "Hey Ya," Justin Timberlake and "Uptown Funk."
"We take requests," she said.
There's an app for this
To be a successful bus of any kind, you need a reliable time schedule for stops (insert your own MTA joke here). The Bergen Bike Bus publishes a map on Instagram with its approximate times at various intersections.
But they also have an app, created by an organizer of a Chicago bike bus, that tracks their location and lets parents and kids follow along. And the app is open and free for anyone to use to start their own route.
Get your communication down
Moving a long line of children through even a single, straight street in New York City still requires military style communication. There are gravel trucks in the bike lane to be dodged, actual school buses to wait behind, yellow lights to race through and an endless parade of car drivers who cannot be trusted.
Bergen Bike Bus volunteers meet early, around 7 a.m., near the eastern end of Bergen Street, to go over the rules, codes, signals and strategies. Kids don't usually join up for a few blocks so the adult riders have time to get their bearings. They use hand signals to stop, verbal signals to get rolling, shouted warnings of a car coming from behind and commands to slow down to close the gaps. One volunteer runs up ahead and blocks intersections with their bike to make sure everyone gets through, a move known as "corking."
The team designates an escort for each school along the route; when kids need to turn off at Fourth Avenue, for example, a volunteer leads them the rest of the way.
Resistance is inevitable
Roberti approached his kid's school's administration to ask about organizing a bike bus last year. Their response: won't the kids who drive to school feel left out?
Lots of kids are unable to bike to school for various reasons; but Roberti had a hard time seeing how safer bike travel in the morning would be a bad thing for anyone.
"I was probably 20 before I rode my bike on a city street. I remember how exciting it was," he said. "To see these kids ride in the street when they're 4 or 5, it's like they're flying. It's amazing for them."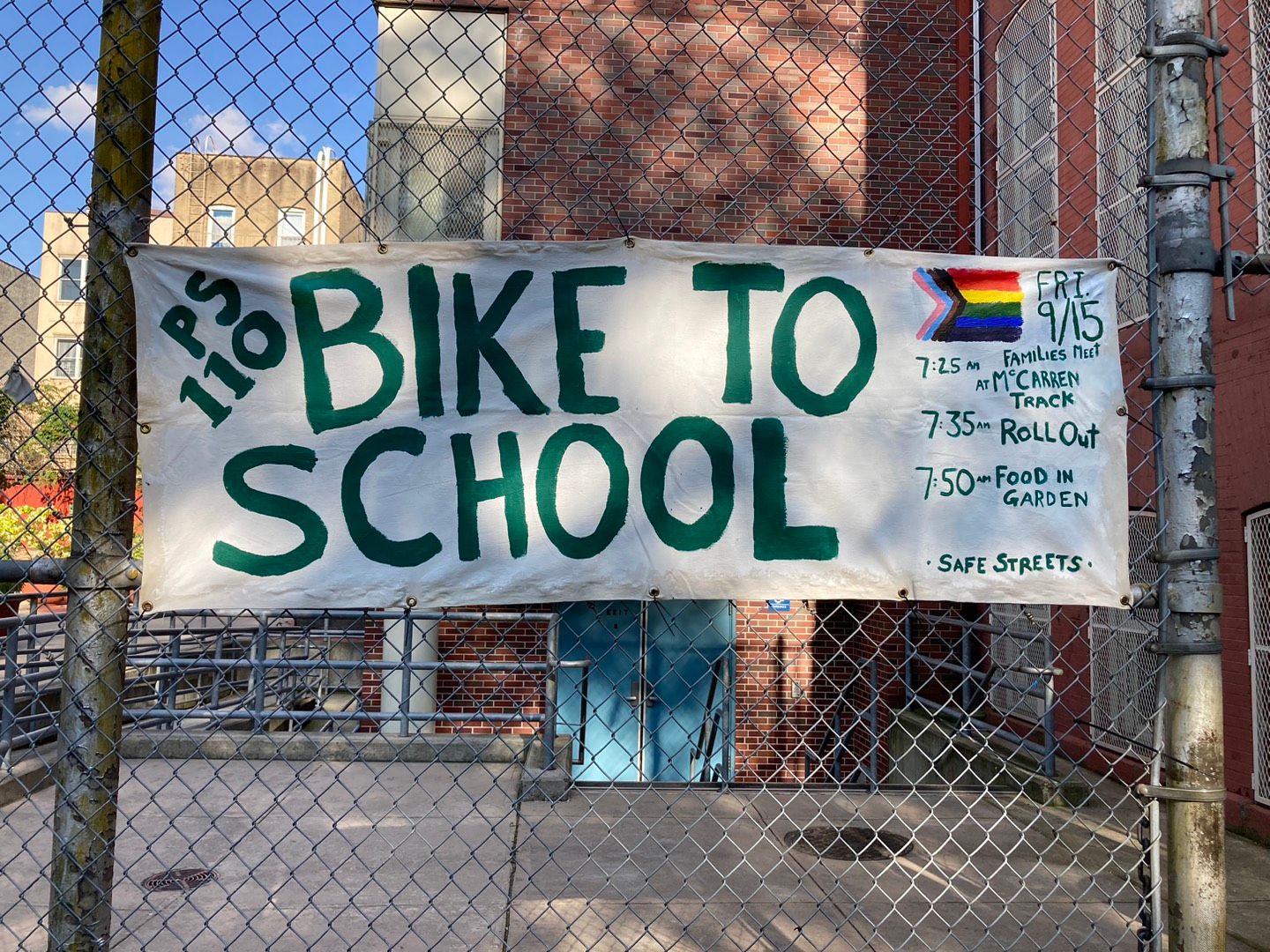 Transportation advocate Doug Gordon, co-host of the War on Cars podcast, recently posted that biking to school also helps build community — much more than the dreaded "car line."
"If you can walk or bike your kids to school you are more likely to have informal social interactions with other parents and caregivers, without the need for official school or PTA events," he posted on BlueSky. "Just one of many benefits of doing what we can to reduce car dependency!"
Yes, drivers are still assholes to children
On my ridealong this week, the interactions with pedestrians and car drivers on the road were overwhelmingly positive and friendly. But at one intersection, a volunteer had to use her body and bike to block a car that was clearly trying to run a red light at an intersection. The absolute addiction New York City drivers have for speeding up to the next red light cannot be broken, even by the most adorable bike crew.
Stutts said drivers mostly don't yell at the kids, but will spar with an adult. The volunteers try not to engage too much; though a sarcastic "have a nice day" is fair game.
"You have to be strategic when you're with the kids," she said. "When we kind of see drivers who are driving a bit more aggressively, we try to adjust accordingly."
Roberti says Greenpoint streets are less busy so they don't interact with angry drivers that much, though he knows their tendencies and keeps an eye out. Having a bigger crew of kids and volunteers makes confrontations less likely.
"It's a numbers game," he said.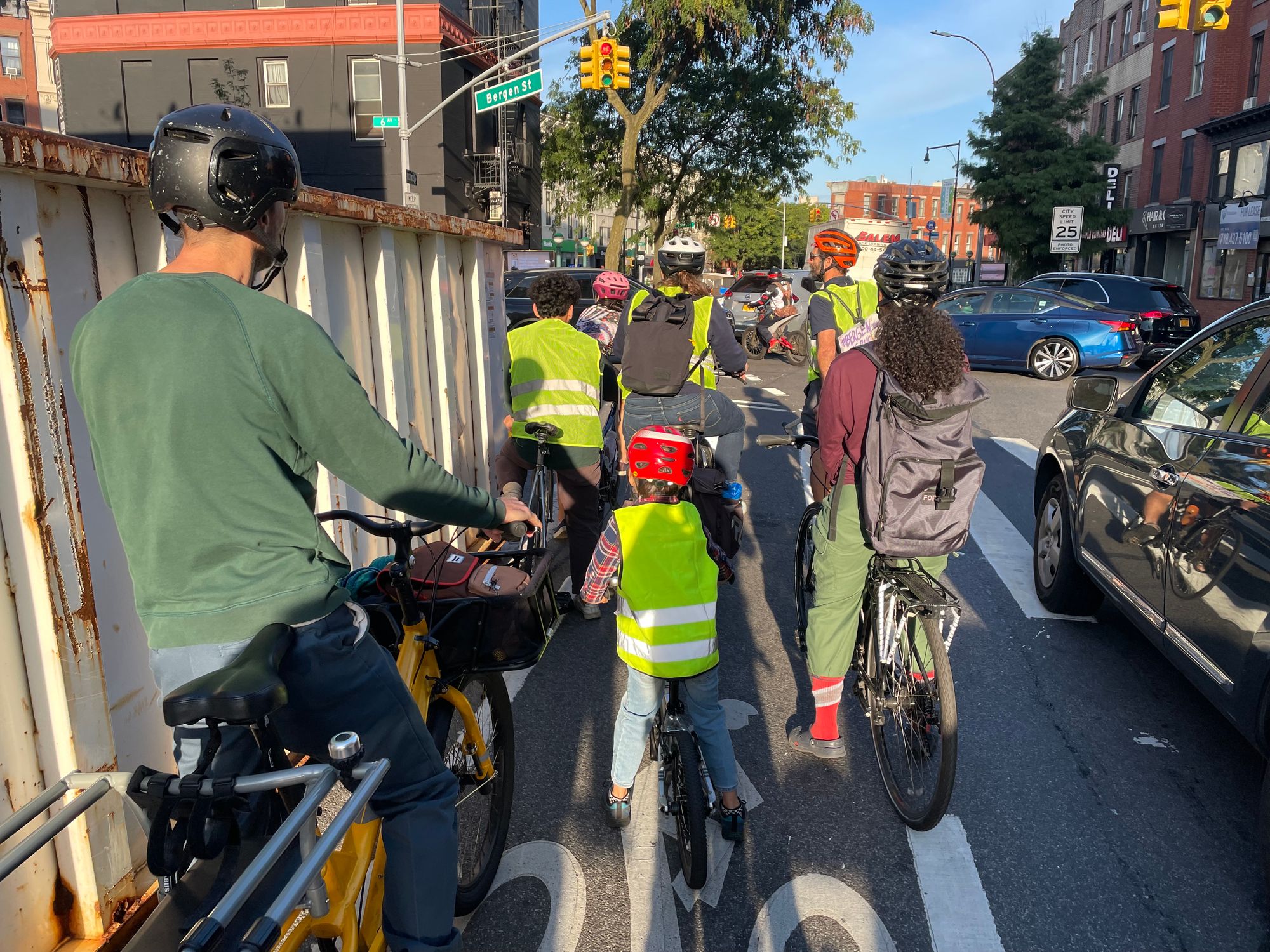 "I love this idea but I'm never having kids!"
Well good for you but you can still help these kids. It would be weird to volunteer to drive some strangers' children to school but you can definitely volunteer to help out with the bike bus.
Sign up here to help with the Bergen Bike Bus; or visit this site to find more information about other bike bus efforts in your neighborhood.
Lots of resources on starting, or supporting, your own bike bus — including webinars, DOT information, flyer templates and more — can be found here,
Organizers hope the bike bus movement will keep growing across the city, with the tiny children in neon vests acting like highlighters to point out the city's lack of protected bike lanes. Asking the city for car-free streets around schools seems like a no-brainer too.
"You can't smoke within 50 feet of a school," Stutts said, "but you can bring your car practically in the front office."
Kids under 14 must be accompanied by a parent or guardian on the route; but organizers dream of a day when students can hop on and off the bike bus by themselves.
"Every day the kids are like, when are we gonna do it again?" Stutts said. "There's such a latent need for it and a want for it that is overlooked because of how the city has been built."
🚲🚲🚲