The best jury duty lunch spots in all 5 boroughs
For those in the know, there are a few standout spots in every borough to reward yourself for your civic toils – without blowing your budget.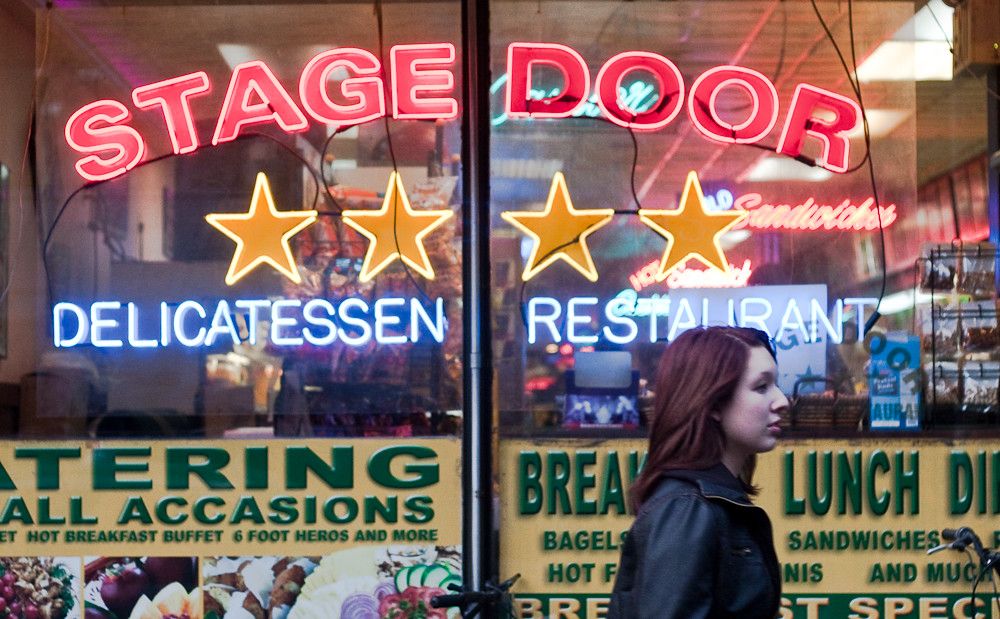 By Hannah Frishberg
So the bell tolled for thee: Your presence is requested in court. Mandated, in fact – the time has come for you to do the civic service of reporting for jury duty. It's also a good reason to take yourself out for lunch everyday: not only do jurors not have fridge access, food isn't generally allowed in court buildings.
In the boroughs, jurors are usually allotted a one-hour lunch break before they must return to court, offering just enough time to patronize an eatery within a 15-minute walk of the courthouse featuring either speedy service or a buffet. Sure, the attorneys and prosecutors may have big enough breaks in their schedules to day dine at sit-down venues, slowly consuming heavy red-sauce classics (RIP Forlini's), but not so citizen judges.
This being New York City, there's an abundance of astoundingly overpriced, underwhelming food options to be had near the halls of justice in every borough, but for those in the know there are also a few standout spots to nourish the body before once again playing your part in the due process of the law.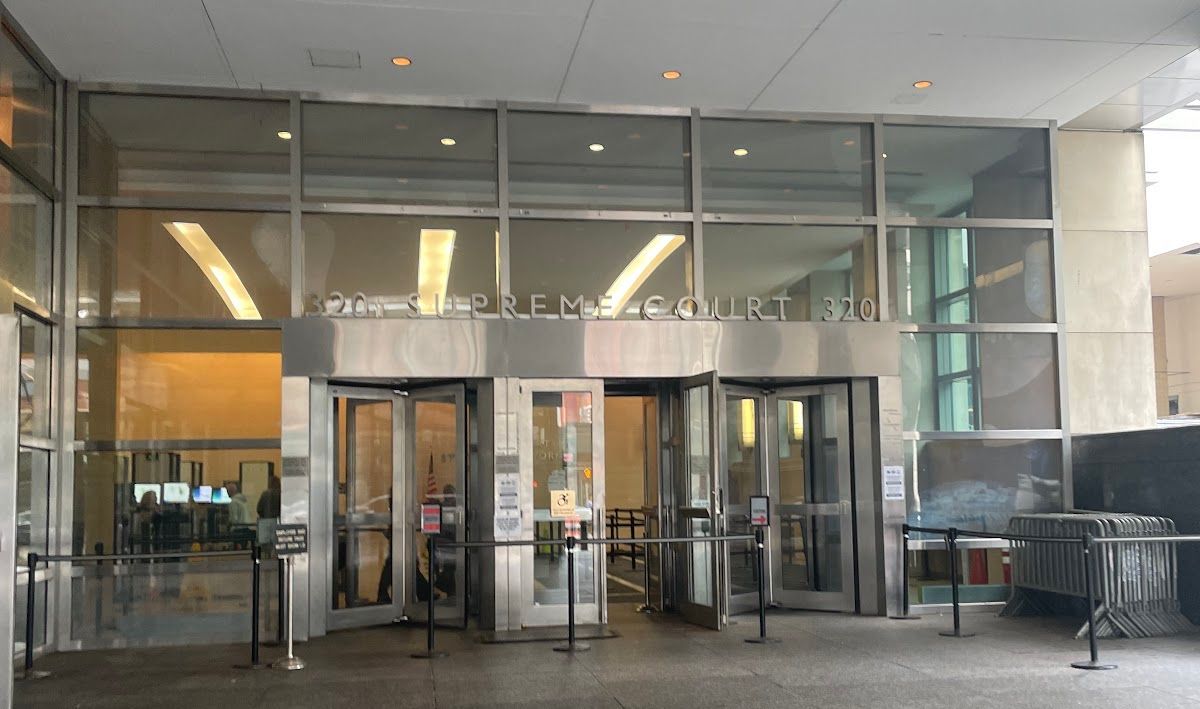 For those serving in Brooklyn
The court-filled heart of Downtown Brooklyn is a dense mishmash of cops, suited prosecutors, witnesses, defendants, jurors and other legal and legal-adjacent types. The air is thick with Brooklyn accents, the sidewalks are notably lacking in all but the most haggard, hapless tourist, and the overheard conversation is top notch – a memorably real place to eat on the street.
Govinda's Vegetarian Lunch (305 Schermerhorn Street)
Located in the basement of an unassuming building which is in fact a Hare Krishna temple, this humble lunch canteen offers a meat-free (and often also vegan) buffet on weekdays from noon to 3 p.m. There are rotating specials (Thursday's eggplant parmesan is particularly popular), cafeteria-style seating, and it's possible to get satiated for less than $10.
Perelandra Natural Food Center (175 Remsen Street)
Tucked inside a Brooklyn Heights health food store amid carefully curated aisles of wholesome home goods and groceries, there's also an all plant-based, pay-by-the-pound hot buffet, as well as a fridge of pre-packaged meal offerings. "A minimum of 95% of the ingredients we use are certified organic," promises a plaque. "Our water is filtered, our oils are expeller-pressed and the salt we use is from the sea." There's no seating, but nearby benches and plazas — including Borough Hall and what is apparently formally known as "MetroTech Walk," but more often referred to as some variation of "the bigger weird traffic-free stretch" — abound.
Sanpanino (187 State Street)
Born 23 years ago in the West Village, this indie sammie joint expanded to Brooklyn in 2018. Seating is limited inside the side-street storefront but sandwiches start at just $9.25, the mozzarella is home-made daily, the meats are all roasted in-house and the prosciutto and coppas are imported directly from Italy.
DeKalb Market Hall (445 Albee Square West)
Over 35 eateries occupy this subterranean food hall beneath Downtown Brooklyn's City Point complex. From outposts of New York classics (Katz's, Arepa Lady) to a wide variety of newcomers offering an extremely diverse array of international street food, there's something for every type of juror in this basement meal labyrinth.
Sophie's Cuban Cuisine (27 Smith Street)
Of the numerous hot buffets within the blocks surrounding Brooklyn's courthouses, this local chain stands out for its homemade $3.79 empanadas as well as actually appealing vegetable options. The entrees are all under $20 but quite a heaping of food to consume in less than an hour – a sandwich or two sides will likely suffice for all but the hungriest of jurors.
For those serving in Manhattan
In a pocket of lower Manhattan, just off Canal Street and Chinatown, lives the city's municipal buildings and the borough's infamous Tombs detention complex. Bureaucracy is in the air and, for those who wish to dine closer to court, there are three public parks to choose from nearby.
Nom Wah Tea Parlor (13 Doyers Street)
This Chinatown institution has been slinging tea and dim sum for over 100 years. The space has been used for numerous TV shows, including "Law and Order," so enjoying a few steamed red bean buns and a cup of oolong with hydrangea here on jury lunch break feels quite cinematic.
Stage Door Delicatessen (26 Vesey Street)
Be transported several decades back in time at this tourist-adored and local-endeared classic deli. There's a display case of cakes, a historic feeling, and an overwhelming, diner-sized menu.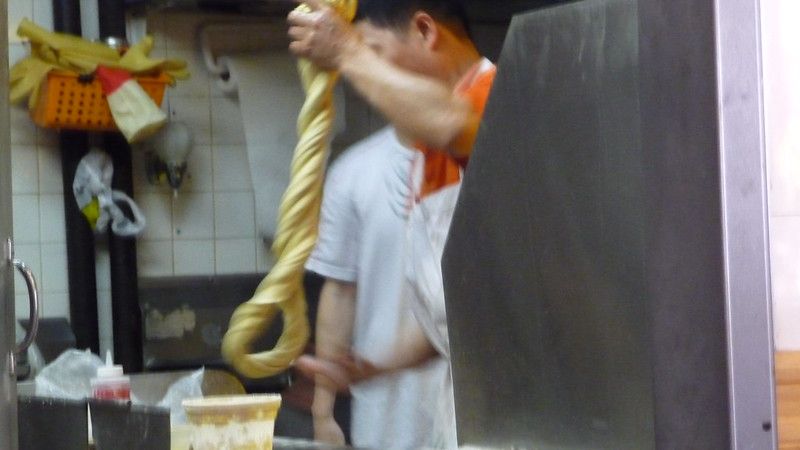 Tasty Hand Pulled Noodles (1 Doyers Street)
Restaurant names are rarely reliable reviews, but this affordable no-frills joint is a special exception. The noodles are indeed tasty and hand-pulled – or, for an extra buck, they can be knife-peeled instead.
For those serving in Staten Island
At the borough's watery edge, the courthouses stoically sit, welcoming passengers coming off the ferry. The north shore landscape here is something of a traffic and hill hellscape for pedestrians but – unlike other portions of Staten Island – it is walkable and there are bonus benches, ledges and green blips to be found.
New Asha (322 Victory Boulevard)
This humble eatery is a crowd favorite in Staten Island's Little Sri Lanka. The fare – curries, roti, rice and more – comes from hot trays and is served on paper plates, but don't be fooled by the sparse presentation: This is some of the best Sri Lankan cuisine to be had in the boroughs.
Pier 76 (76 Bay Street)
This North Shore favorite has been slinging thin-crust slices since 2009. There's a distinctly Forgotten Borough charm to the checkered tablecloths and sports bar atmosphere combined with upscale details and affordable prices.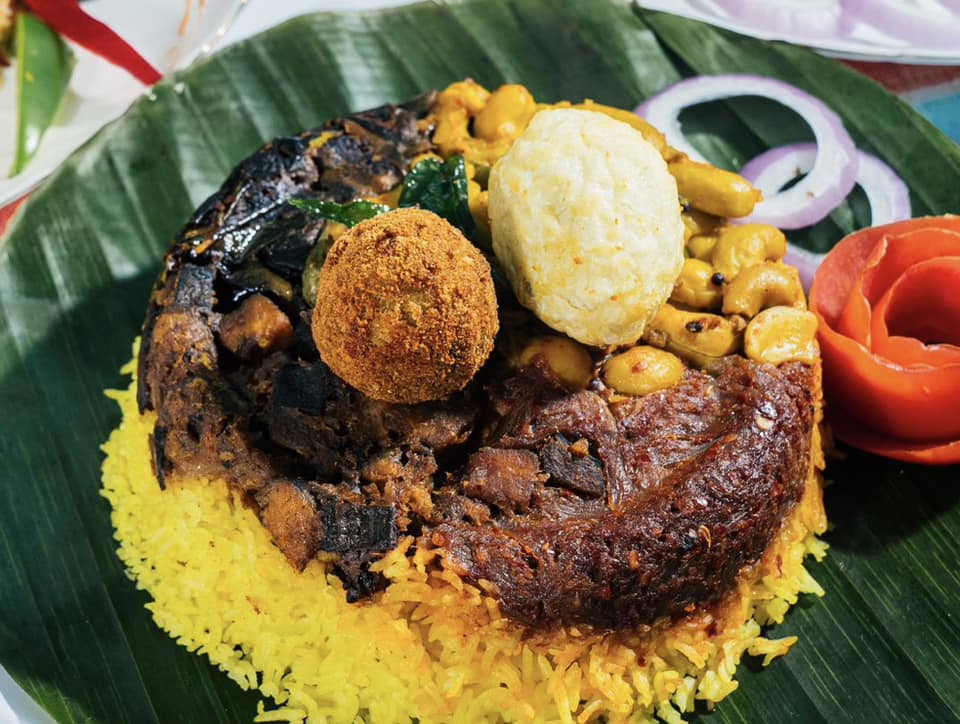 Sagara (98 Victory Boulevard)
This Bib Gourmand-winning combination market and restaurant offers aisles of Sri Lankan groceries as well as a small but mighty kitchen in the back. The mom and pop operation opened in 2017 and quickly became a standout business in the borough's Sri Lankan food scene, which happens to be concentrated near the courthouse, thanks in no small part to its renowned lamprais, which comes swaddled in a banana leaf. The Sri Lankan food scene is concentrated not far from the courthouse.
For those serving in Queens
Queens County's Criminal and Supreme courts are oddly quite far from each other, separated not just by charge severity but also Queens Boulevard. The Criminal Court is on a grassy patch in Kew Gardens which was once also home to a vintage Redbird train, while the Supreme Court is in Jamaica on a far less lush plot but in a much more imposing building.
Cobblestones (117-18 Queens Boulevard)
This unpretentious, outer- outer-borough pub and biergarten has been serving locals and court commuters since 1985. It offers quality elevated pub fare and an enormous backyard oasis to briefly escape the drabber realities of the legal system.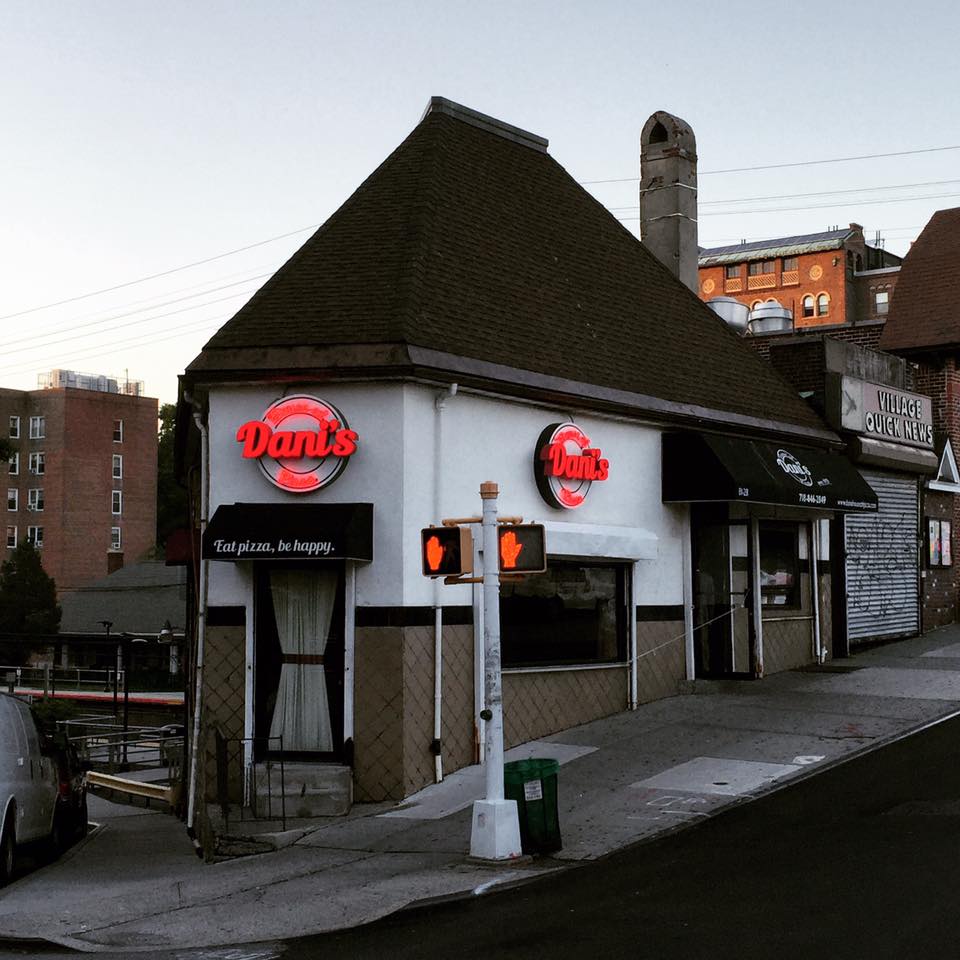 Dani's House of Pizza (81-28 Lefferts Boulevard)
This bi-level corner joint has been perfecting pizza for over 60 years and is now known for the trademark sweet sauce that tops its pies. In addition to slices there's also a full menu of Italian-American comfort food, fried and dried pasta and Prince Edward's Island mussels — but most come here for the pizza.
Hangar 11 Burgers & Brews (119-11 Metropolitan Avenue)
Kew Gardens' equidistance from JFK Airport and LaGuardia has made it into a desirable destination for flight attendants, which is now this sports bar got its name. Thematic menu highlights include an LAX burger (guacamole, chipotle mayo), first class nachos and, if jury was particularly turbulent that day, a JetBlue cocktail featuring two kinds of rum and pineapple juice.
For those serving in The Bronx
Google Reviews only give the Bronx Criminal Court a 2.8 ("When it comes to jury duty: it was fine.") and the surrounding area is quite the concrete wasteland. But Yankee Stadium is just a few blocks away (which is also a wasteland these days -Ed.), plus Joyce Kilmer Park and Franz Sigel Park offer patches of non-paved earth to dine upon in the warmer months.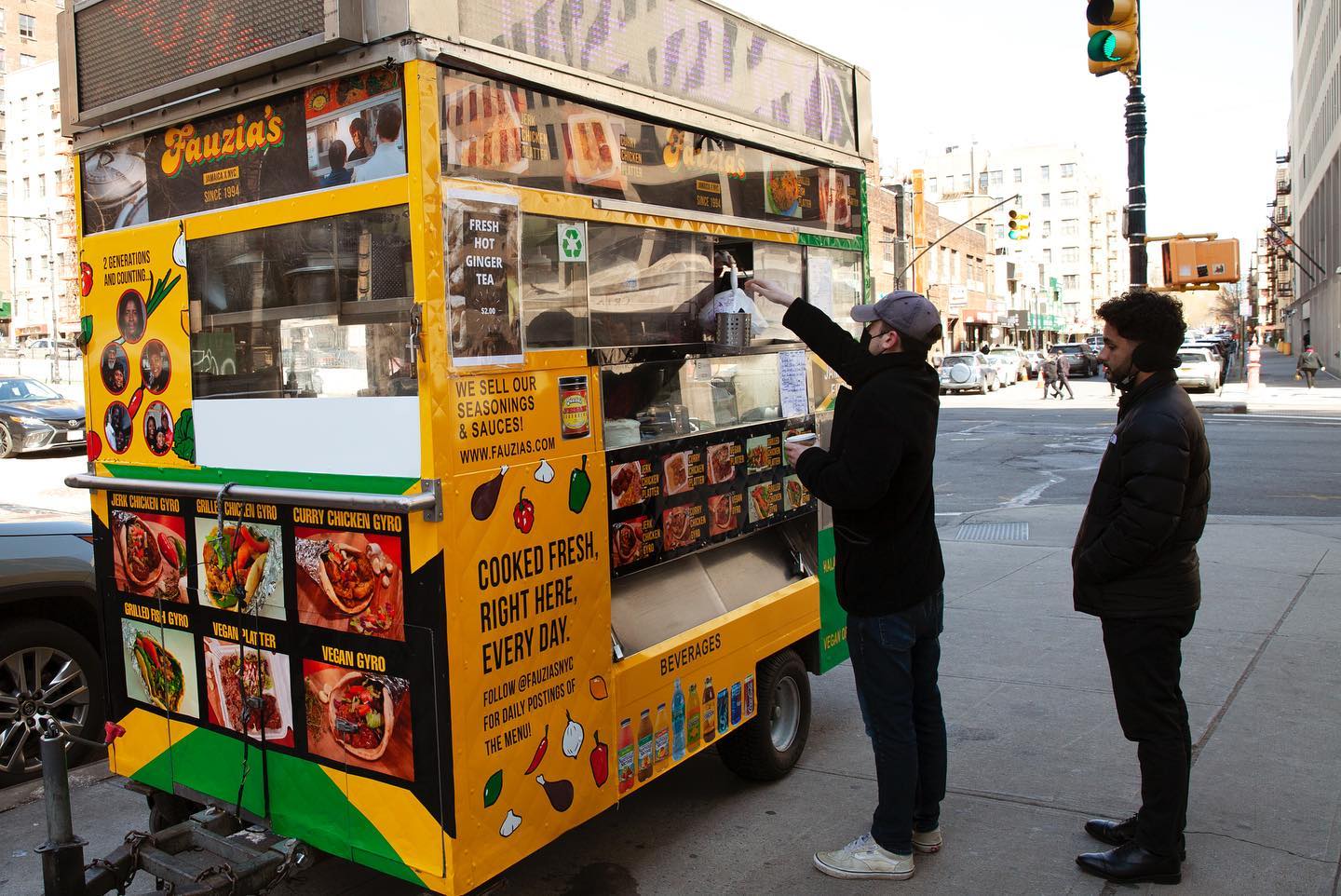 Fauzia's Heavenly Delights (East 161st Street and Concourse Village West)
It may be mobile, but this nearly 30-year-old food truck is a longtime local of its intersection. Despite never printing a menu, for decades this little Jamaican restaurant-on-wheels has been summoning long lines for its all-halal menu of jerk and curry chicken, among other ever-changing options.
Court Deli (96 East 161st Street)
Located two blocks from Yankee Stadium and a half block from the Bronx Supreme Court, this literally named eatery has been feeding the borough since 1936. It's got a classic diner atmosphere and classic diner fare, albeit presented in a menu adorned with a scale and a number of old school New York twists ($3 original Coney Island knishes, $6.50 matzoh ball soup, the view of 161st Street through the wraparound glass enclosure).
Hibachi Grill & Supreme Buffet (200 East 161 Street)
Behind a parking lot, in the bowels of a strip mall, this buffet gets lines out the door on weekends, but jurors can enjoy it without a wait. For $11.99, patrons may eat until they can't from more than 250 different food options; you can have items thrown on the hibachi grill for no additional cost too.
If you got other picks for ordering-while-in-the-court, let us know in the comments (and become a paying member today to unlock commenting privileges)!