The MTA
The MTA's emergency exits aren't any good if they're locked
"Emergency exits are for emergencies, they're not a morality decision maker. Didn't we just have our first mass shooting a year ago?"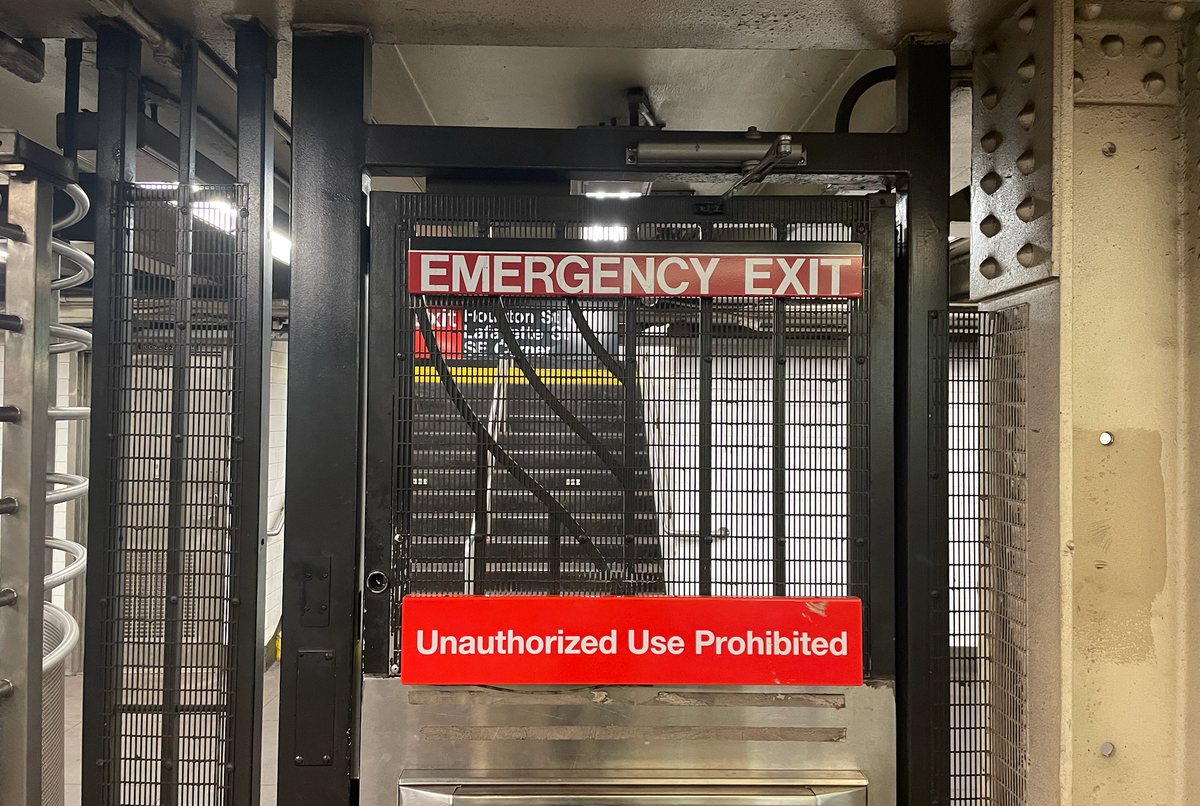 By Virginia K. Smith
One thing about emergency exits? You're supposed to be able to open them.
Spend enough time navigating the New York City subway system, though, and you may find that isn't always the case.
Back in August, writer Alex Brook Lynn in August tweeted that she was finding locked emergency exit doors at the Christopher Street 1 station, Penn Station, Grand Central, Chambers and Fulton on the A/C, at the Utica A stop, and at 14th St.
"Often they're locked without anybody in the booth and other New Yorkers have had to help me wrangle a toddler and a stroller through the turnstiles," she said at the time.
The issue was the worst, she said, at the Christopher Street station.
"On the downtown side, they don't have a person there, so I was coming in and asked people, 'Can you open the exit door?' " Brook Lynn told The Groove. "I had the stroller, I had the kid, I had the diaper bag. I'm fine swiping in then going through, but the thing was just fused shut, they couldn't open it. I had to ram the stroller through [the turnstiles] while the kid's in one arm."
Other parents navigating the MTA — and relying on emergency doors as their only reliable exits — have voiced similar issues.
"[On a recent visit to the city] there were a few occasions when we tried to get out of emergency doors, and the doors were locked," said another parent who preferred to remain anonymous. "My husband would have to go out and either stand in a queue or wave people down to ask somebody to let us [out]."
In one instance, an emergency door was locked, with no nearby MTA employees to be found. But even if an MTA worker was in sight, they weren't much help.
"We did have some MTA employees who literally stood on the opposite side of the door just watching and blatantly ignoring us," she said. "And in one case we asked and they said 'No, we can't open it, it's not able to be opened.' "
Though the exits are meant to always be usable, haphazardly locked emergency exits aren't a brand-new phenomenon for the MTA, particularly during the agency's recent fervor for cracking down on fare-beating at all costs.
Last spring, the issue flared up when, just days after a mass shooting on the subway, multiple people took to Twitter (as it was still known back then) to report instances of locked emergency exits in stations across the city.
In response to one user, the official MTA account replied, "The gate was malfunctioning. We don't lock emergency gates unless there is long-term construction work."
"Malfunctioning" gates or no, the MTA has recently deployed a fleet of gate guards posted outside the emergency exits to prevent anyone from slipping through the doors as a free entrance. MTA officials declined to comment on the record for this story, but noted that gate guards are supposed to let riders with "luggage, strollers, etc." exit through the emergency gates, while others are encouraged to use the turnstile.
In practice, it's hit or miss.
"I've come up to gate guards carrying scooters, traveling with three small children, explaining that I don't want to put them through the cage turnstile, and it's not safe, I've had kids get stuck," said one Brooklyn nanny who asked to remain anonymous, citing an NDA with her former employer. "And they've said no, you have to take them through the turnstile. They won't let anyone through."
Of course, emergency exits are hardly the lone safety or accessibility issue plaguing the subway system.
"Only the stations that are wheelchair accessible, which is about 27% of the stations right now, have a fare payment attached to the emergency exit," said Jessica Murray, an organizer with the Elevator Action Group, a coalition with the stated mission of "moving to push wheelchair accessibility in the subways to the top of the MTA agenda."
"The rest [of the emergency exits] don't have any kind of fare payment, they're purely for emergencies," Murray said. "And they shouldn't be locking any of them, because people need to get out."
In response to questions from The Groove, an MTA spokesperson declined to elaborate on instances when gate guards might lock exits altogether, instead asking repeatedly about specific stations with apparently-unusable emergency exits.
"Emergency exits are for emergencies, they're not a morality decision maker," Brook Lynn said. "Didn't we just have our first mass shooting a year ago, and didn't our gun laws just get shot down? This is a safety thing, this isn't just for pissed off Greenwich Village moms."
If something really ever goes wrong though, we're sure the K5 Security Robot will stay alert and laser-focused on the most essential task at hand — scaring off anyone who might be trying to ride the subway for free.