Trash cans are always overflowing. Why aren't there more of them?
There's a simple possible answer: if you build it, litter will come.
By Tim Donnelly
Last week we wrote about the vast amount of trash on our streets, and how much it still baffles and frustrates New Yorkers. Today, we're looking at a more specific question some of you raised; one, in fact, many New Yorkers have ask themselves whenever passing by the heaps of refuse piled up outside an overfilled trash can in a park: Why can't there just be more trash cans?
This was a question before the pandemic, but the COVID-era surge of people using our parks and public spaces revealed just how unprepared the city was for everyone to actually be using the outdoors so much (and, apparently, for how many cans of alcoholic seltzer we could crush when there was nothing else to do).
Anyone who uses the city's public spaces in summer has seen this familiar, depressing sight: the official designated trash bins overflowing with the day's waste, leading people to start piling trash at the base of the trash can, creating a sprawl of trash so vast and dense it could get its own community board. It's a 5pm shadow that hangs around many litter bins in the city, creating a moat of plastic bags (which are supposed to be illegal anyway!) of picnic waste, bottles of wine, paper plates, coffee cups, aluminum catering trays, broken umbrellas. Even in the winter those bins are stuffed with broken pieces of plastic sleds or surrounded by bags of dog shit.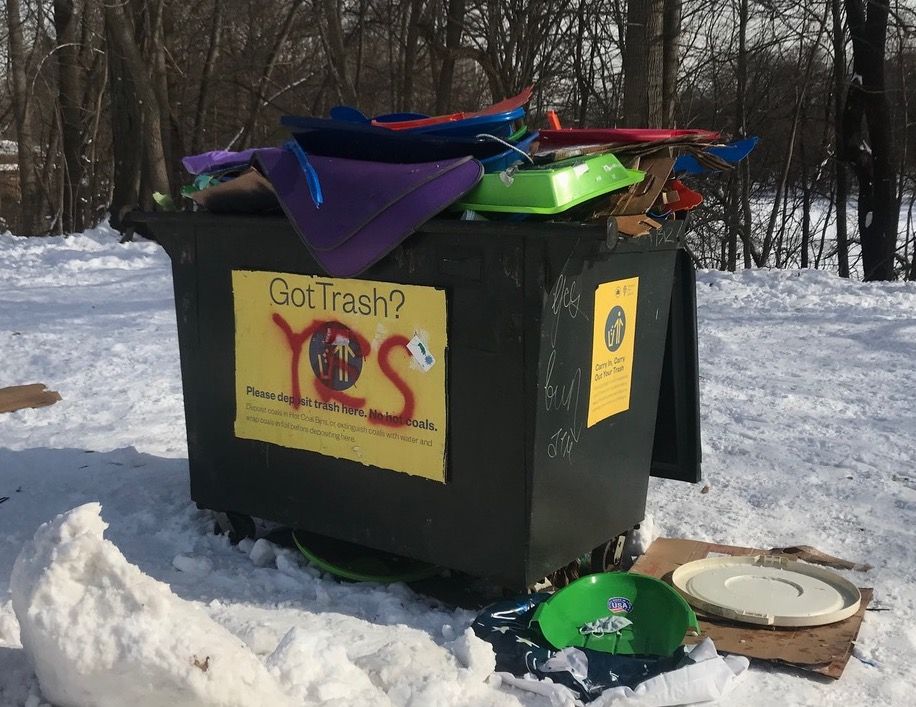 This gives the trash time to metastasize and spread again, litter scattering across the grass or being blown off the boardwalk and directly into the ocean, where it will further anger the sharks.
"I live in Williamsburg and the few cans that we have are overflowing with bags of dog poop so you can't even toss anything in there if you do find one," one person posted on Reddit recently. Another complained about Coney Island last year: "All the cans are overflowing and people just start throwing trash around the can because there's no interim pickup."
If you build it, more trash will come
So why can't the city just put out some more — or maybe bigger — trash cans instead of letting trash pile up on the ground?
The answer is possibly a simple one: more trash cans might actually lead to even more trash. Experts say there is some thinking in the world of waste management that trash bins are subject to the rules of induced demand. In other words: if you build it, litter will come.
"Trash begets trash," a Department of Sanitation spokesman told me.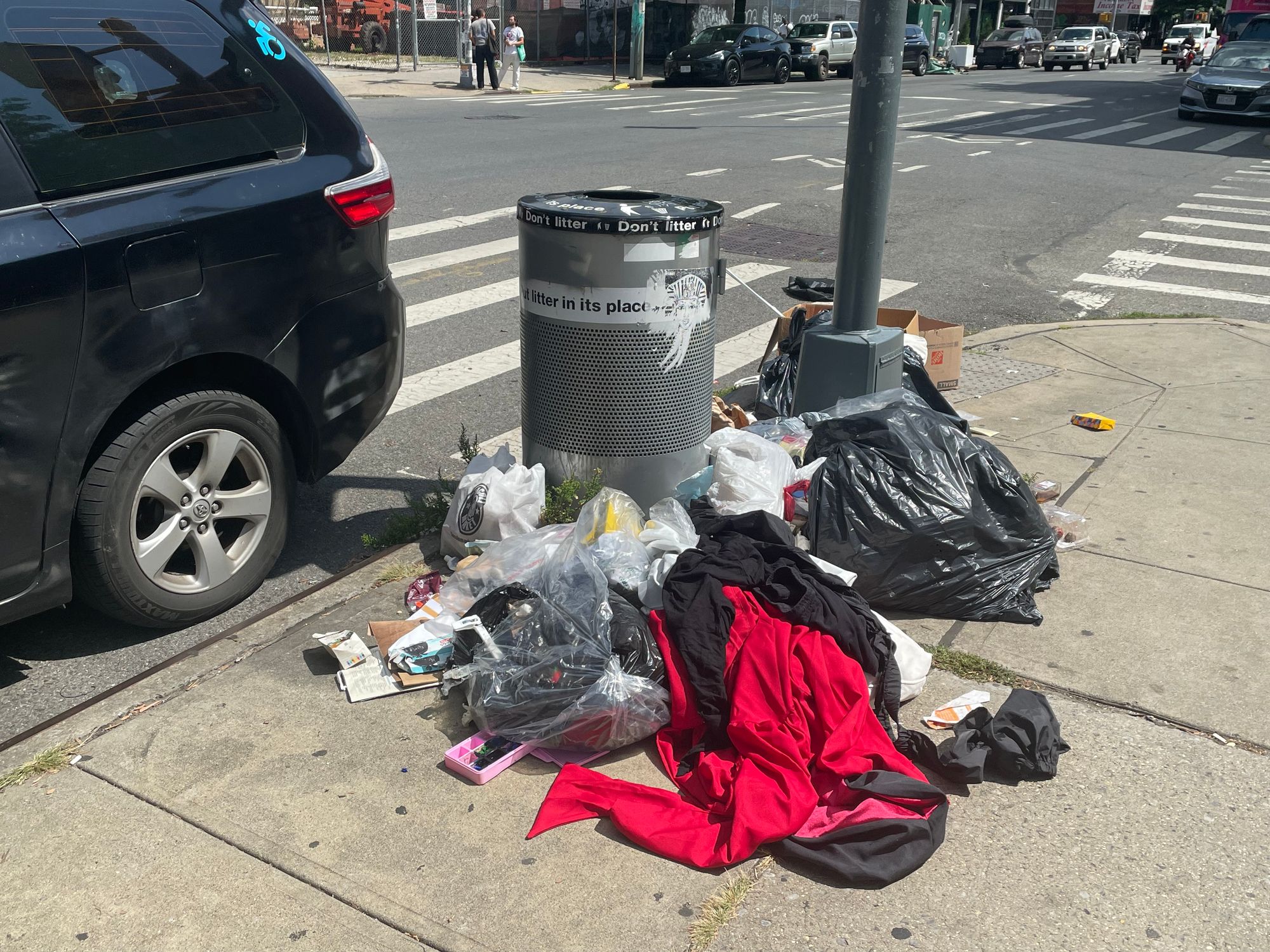 "Induced demand" is a concept that says if the resource is there, people will be more likely to use it. It's why widening highways to just "one more lane bro" never actually reduces traffic, or why building streets that aren't murder gauntlets actually encourages more people to ride bikes.
It might seem like simple logic to you and me to just put more trash cans where there is more trash already piling up. But the city's workforce, capacity and time is likely already maxed out when it comes to picking it up.
"If you have enough labor, you can make it work," said Clare Miflin, executive director of the Center for Zero Waste Design. "If you reduce the amount of waste, you can make it work."
The trash bins in parks, boardwalks and beaches are handled by the Parks Department (which did not return requests for comment). The trash bins on street corners are managed by DSNY. Those bins have appeared and disappeared in mysterious patterns that have confused and angered people for years. But recently, DSNY has been on a blitz campaign to take better care of the corner bins.
The city has 23,000 litter baskets around the city; in 2022 the department got a financial boost from the Eric Adams administration that allowed DSNY to empty those bins 50,000 more times per week, according to a spokesman. Thanks to that, overflowing litter basket complaints have seen a massive decrease year over year, DSNY said.
"We are running the highest level of litter basket service in history," spokesman Vincent Gragnani said.
♻️
Wen want your thoughts and questions about the state of trash in the city; tell us
here
!
Do we need more cans – or less trash?
I had to ask Miflin, who worked on the city's Zero Waste Design Guidelines, if more trash cans would really cause that much of a problem. She said the real issue isn't that the garbage is piling up outside the bins; it's that it exists at all.
"We're using more and more single-use, disposable and takeout containers. That's the 'amount of waste' issue," said Miflin, who will often pick up aluminum catering trays from outside trash cans in Prospect Park and bring them to her own recycling bin at home. "People are having full blown picnics with all the single-use, disposable stuff."
Totally eliminating litter bins — like in Tokyo — probably wouldn't work in New York, she said; our transient and tourist populations aren't ready for the culture shock. In 2015, the MTA piloted a program to remove litter bins from some subway stations in hopes of reducing trash overall. The agency initially deemed that program a success, if those claims seemed dubious at the time. But in the end, it failed: the trash cans returned to the stations in 2017.
City officials should do a better job encouraging less trash in the first place — something that often gets lost in the conversations about clean streets and trash set-out times, Miflin said.
"I definitely think there's not enough focus on reducing waste," she said. "New York City hasn't got a zero waste plan; It's got a zero waste goal, but it hasn't got a plan. Every zero waste plan should start with reducing waste."
(The bins, it turns out, are not cheap either. A standard one can cost as much as $1,000 on the open market. They're usually about 32 gallons big, enough for 341 White Claws, if you emptied them directly into the bin.)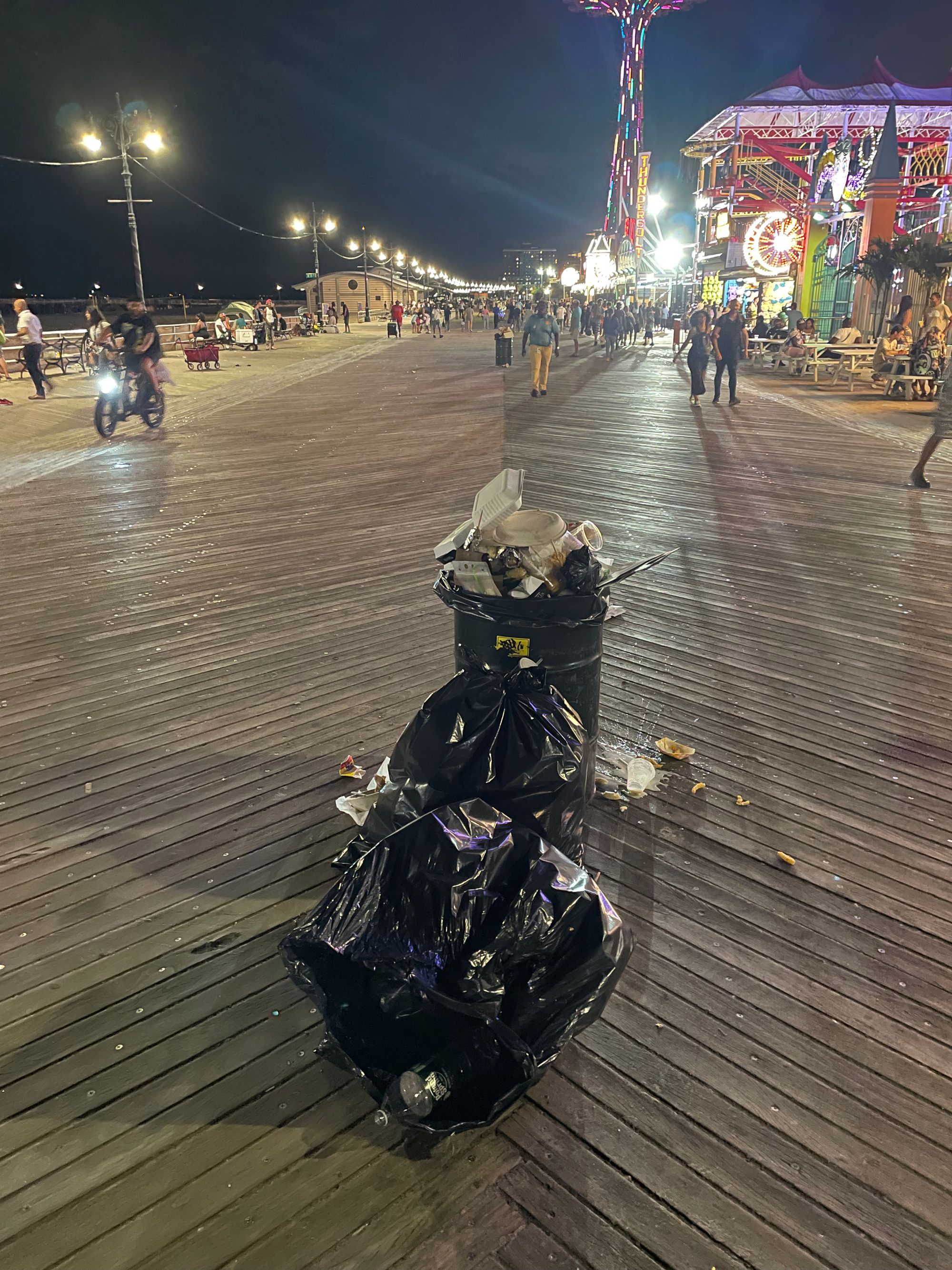 Basically, it seems like if we want less trash in the park, we should stop bringing so much trash to the park.
Miflin cited something as simple as trying a reusable cup program – which the city could pilot in confined spaces like Governors Island – aimed at reducing the number of coffee cups and their cardboard sleeves that fill every litter bin.
City officials need a broader approach to reducing waste, she said, going into people's buildings and schools to target waste at the source, and getting people into the habit of composting at a young age. Just focusing on litter pickup will mean more White Claw cans in every park until the end of time.
"That kind of stuff may feel short sighted, but … we should be harnessing that," she said. "Once people start paying attention to their waste, they're like, 'Shit, I should stop wasting so much food."