burning questions
There are thousands of vacant lots across New York City. Can we build housing on them?
"There is honestly a lot of low-hanging fruit that we can build housing on, without having to bring down existing buildings."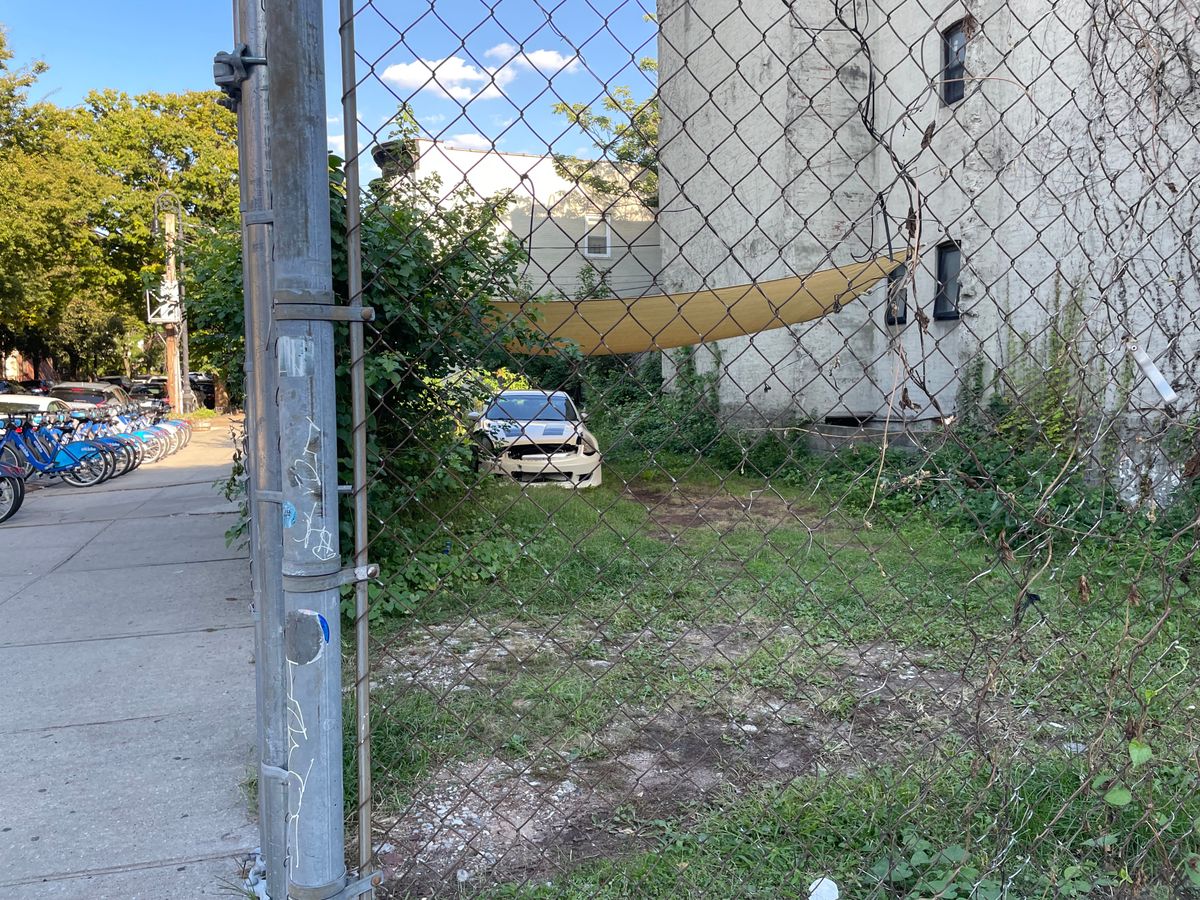 By Dave Colon
There's a housing crisis in New York City, have you heard? The mayor wants to build 500,000 new housing units in 10 years, which even he has called a moonshot. We've been there a couple of times though, so technically a moonshot is in the realm of the achievable.
But you might be looking around your neighborhood (or the neighborhood where you work or party) and wonder where the hell all this housing is going to go. Or you might wonder why there are so many overgrown empty lots just sitting there when so many New Yorkers need homes. It's a fair question, and some people are trying to answer it.
"If you really look, if you just open your eyes a little bit, when you walk in your neighborhood, you'll see a ton of that just in between existing buildings, maybe on the street corners, maybe adjacent to an existing building, but they're using it as parking," says Open New York campaign coordinator Samir Lavingia, whose organization compiled a list of thousands of open lots across the city. "There's a lot of opportunities to build housing on these lots."
Finding the land
First comes the task of identifying how many vacant lots there are in this city. Per a law passed in 2018, New York City was supposed to have started a survey of vacant lots and vacant buildings in areas zoned for residential use. According to that law, the first census was supposed to have been published in 2021, but at the moment, it does not seem to exist anywhere.
Manhattan Borough President Mark Levine, for instance, has put together his own list of vacant and underused properties that could be turned into 73,000 housing units, both market rate and rent regulated.
Outside of the government, your average everyday citizen has also been looking at the emptiness around them.
There are, for instance, the people at Open New York, an organization that advocates for increased housing production in the city, who say the answer is there's more room than you might think, because there's more vacant land around the city than you might guess.
The group's members, housing nerds one and all, took it upon themselves to compile a database of every vacant lot in the city they came across, to show that — contrary to what you hear every now and again — New York City is hardly full. The list, compiled in part from people just walking around and in part from people trawling the city's Zoning and Land Use Map (the real Zola, for some folks out there) isn't meant to be a fill it and forget it database of guaranteed housing; it's more something that's meant to start a conversation.
"What we wanted to do was have our members send in some examples of vacant lots in their neighborhoods to really highlight the fact that there is honestly a lot of low-hanging fruit that we can build housing on, without having to bring down existing buildings, and with a lot of opportunities near subway stations. And basically, it was to really counter the narrative that you hear sometimes that we already have all these tall buildings, there are no vacant lots left," said Lavingia.
The lists the organization put together are separated into a huge, general list of thousands of empty lots and a smaller list (still numbering in the low thousands) of lots that are 1,000 feet or less from a subway stop. The photos of some of the lots show absolute bummers of wasted potential: chain link fences around ancient unmoved cars and unmowed grass, right next to other perfectly nice apartment buildings.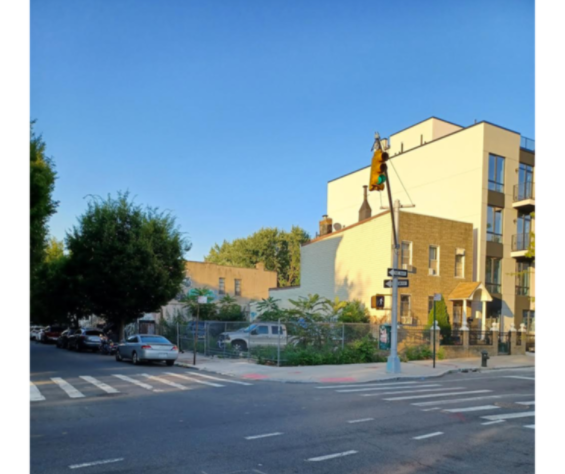 Open New York members aren't the only regular people looking around at what they see as underutilized lots. In East New York, for instance, the East New York Community Land Trust has put together its own map of NYPD-owned lots the organization wants to see transferred over to community control. The CLT says they could result in better uses than employee parking or storage for junk vehicles, uses that could include income-restricted and rent-regulated housing.
In Melrose Commons in the South Bronx, community-based development corporation Nos Quedamos has offered up a proposal to get land into a CLT known as the South Bronx Land and Community Resource Trust, with a report that identified vacant lots in the neighborhood where residents want to see housing go up.
Using the land
Then comes the harder part: actually convincing someone to build on those lots. One obstacle in the battle to find empty space in the city is that lots owned by the city housing agency, Housing Preservation and Development, have dwindled in number over the decades as the agency has actually built places for people to live.
Land is expensive in New York, and HPD isn't in the business of buying it at market rates, so the lots aren't exactly a highly renewable resource. Between 2021 and 2022, the number of HPD-owned lots has shrunk from 1,009 to 810 lots, which the agency credits in part to "the successful closing and conveyance of lots for affordable housing development" and giving lots to other city agencies for non-residential uses.
That means you need to either find other city-owned vacant land an agency is willing to part with for housing, or find ways to encourage private landowners to build.
Private land composes much of the vacant lots in the city, and, thrillingly, there's currently nothing stopping someone from holding on to their vacant property or keeping it that way for as long as they like. Or stopping them from attaching very stupid ideas to the land, like building an enormous ferris wheel and grudgingly some rent-regulated apartments on an enormous vacant stretch near the United Nations building if of course the state also allows for a casino there. If not, the land can just sit vacant for another 23, or 2,300, years.
Levine's Housing Manhattan plan found what his office said were 42 lots currently used for parking lots or low-rise retail, or were totally vacant. And while the city can't force anything to be done, he proposed various carrots in the form of zoning incentives to allow larger developments, or subsidies that pay for rent-regulated housing to get private property owners to agree to build housing on their land.
While Levine has proposed some sweeteners, there is also potential for a stick, in the form of higher property taxes on vacant residential land. The idea was last kicked around by Andrew Yang (remember him?) when he ran for mayor, and proposed jacking up the tax rates on commercial vacant property to a value based on the land's actual sales price, as a way to encourage its actual development. That idea, or a similar one, could pop up again as the Adams administration moves to update the citywide zoning code as part of the City of Yes initiative this fall.
The opportunities Lavingia talked about can be moved along with policies that discourage warehousing land, grasped by someone who wants to build themselves, or even tackled by the city. While over 500 HPD-owned lots are targeted for proposals to build rent-regulated housing, Lavingia said that the city's housing agency can still work with other agencies to see if land they own could be rezoned for housing, instead of sitting around as dirt lots.
"The other thing that we want HPD, and city agencies generally, to do is figure out, if we have these vacant lots, why are we not building on them," he said. "It could be zoning, so we would want the city agencies to start looking into that and proposing rezonings and working with the community to get those done so we can build much needed housing."
Of course, even finding what seem like slam dunks tends to be easier said than done, even when rent-regulated housing is on the table.
A recent start on the road to building units on a vacant city-owned property at the corner of Hudson Street and West Houston Street in the West Village has already drawn the steely ire of Village Preservation Society, which is whipping up opposition to the building because it is too tall for their liking.
But, the housing crisis isn't exactly going away anytime soon, so the city has got to keep looking around for ways to fill up these lots.
"The most critical issue to New Yorkers right now is housing," Lavingia said. "You read about office vacancies, that doesn't seem to be a huge issue, people can find office space. But people are really struggling to find housing. Rents keep going up and up and up. Because we're not building generally, which we could do on these vacant lots."