ways to help
How you can help the cat crisis in NYC
"It's easier to get Bruce Springsteen tickets than a spay-neuter appointment in New York City."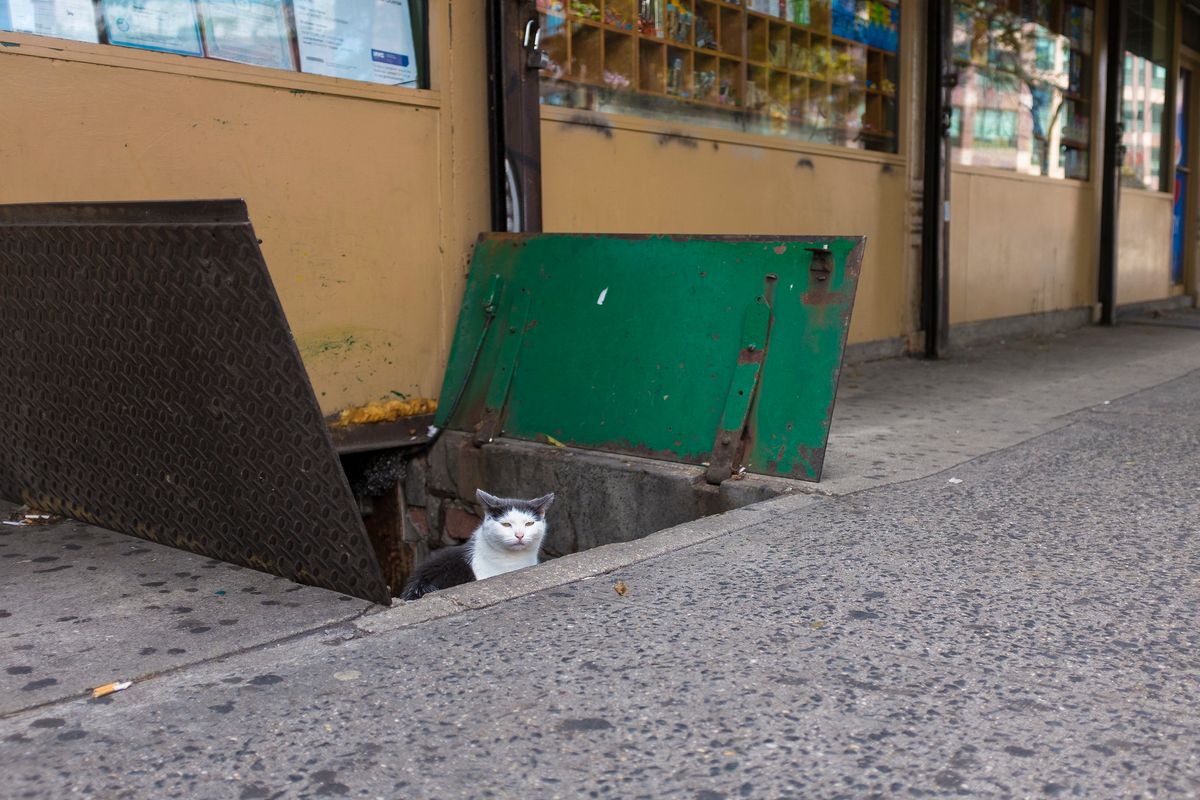 By Kate Mooney
Remember in peak pandemic when it seemed like everybody adopted a pet while we were all stuck at home? Now, in 2023, with restrictions null and the pandemic declared officially over (despite a late-summer Covid surge) shelters are seeing a severe uptick in surrenders, resulting in overcrowding as pets wait weeks or months without being adopted.
It got so extreme that in July, the Animal Care Centers (ACC) of New York temporarily paused cat intake, with the exception of medical emergencies, violating their contract with the city as an open-admissions shelter (they've since resumed admittance). So what caused this cat-astrophe, and what can you do about it?
Why the sudden crisis?
Beyond the post-lockdown return to ~normalcy~ giving some new pet owners second thoughts about their four-legged acquisitions, there are also "huge financial pressures" now that some of the guardrails put in place during the pandemic have fallen away, according to Steve Gruber, director of communications at the Mayor's Alliance for NYC's Animals.
The city's eviction moratorium ended in January 2022, while inflation remains high and rents have skyrocketed to record numbers, and only a portion of available rentals are pet-friendly. Half of New Yorkers can't afford the cost of living here, while affordable services for pets are harder to find than ever before: A national veterinary shortage has also led to closures of low-cost animal clinics, like the ASPCA, whose Queens location shut down Sept. 1.
While the number of available shelter cats and dogs is both outpacing adoptions, rescuers say NYC's outdoor cat population is particularly out of hand, with an estimated 500,000 outdoor cats on the street (that includes ferals, who are unsocialized and unadoptable, and strays who were once pets, but have been "dumped" or abandoned. For a helpful explainer on the difference between strays and ferals, see here).
That's because during the pandemic shutdown, spay-neuter services went on pause as community clinics and city shelters temporarily closed, leading to a boom in kittens. Now we're seeing a shortage of affordable spay-neuter appointments, as rescuers compete for openings at a very limited number of clinics.
"I joke that it's easier to get Bruce Springsteen tickets than a spay-neuter appointment in New York City," Becky Wisdom, president and founder of the volunteer-run rescue organization Greenpoint Cats, told The Groove.
According to Wisdom, rescuers currently seeking appointments can try the ASPCA in East New York, the only current location offering spay-neuter, or community clinics like Flatbush Cats or the Brooklyn Cat Cafe.
"The [ASPCA] calendar opens up at 6 a.m. on a Monday at the beginning of the month. We all log in, and it's like playing the lottery. The appointments are all gone by 6:01," she explained.
Sometimes, she'll seek out Long Island shelters, which at times have more availability, or host pop-up spay-neuter clinics with the help of Bideawee. Occasionally, a local veterinarian will cut her a deal. (For context, "low-cost" spay-neuter goes for $0 to $150, while an appointment at a private vet runs you $600-$1000.)
The city needs to step in to combat this crisis, increasing funding to city shelters and subsidizing trap-neuter return (TNR) and spay-neuter efforts for community cats.
In the meantime, here are ways everyday New Yorkers can help.
Adopt, don't shop
It seems like this should go without saying but: if you are ready to add a furry family member, please pull from the overwhelming number of shelter cuties rather than a pet store or breeder. (NYC did helpfully ban the sale of dogs, cats and rabbits in pet stores, which will take effect in 2024.)
Shelters and animal rescue groups, from ACC to Best Friends Animal Society, host regular adoption events; check their websites to find the next one, or here's a great list from Time Out New York.
You could also spread the word: Katy Hansen, director of marketing and communications at ACC, suggested that New Yorkers share ACC's adoptable pets on their social media. Maybe someone you know will find their next cat or dog that way.
Foster Foster Foster
If you're not sure you're ready to take on the commitment of adoption, or if you just want to help care for some of NYC's many strays before they find placement into forever homes, fostering is a crucial way you can step in. Rescue orgs, which don't have brick and mortar shelters, rely wholly on fostering to help manage the animals they take in. Plus, when shelters fill up, fosters can help relieve overcrowding. Gruber pointed out that some animals don't do well in shelters, whether it's because of behavioral issues, or special medical needs, so fostering an animal could provide a better environment for them to thrive.
Brooklyn cat lover and friend of The Groove Conal Darcy has fostered cats since 2021, via the animal rescue Brooklyn Cat Cafe. While Darcy wants to adopt one day (and wouldn't rule it out if he meets The One), he says he travels too much for it to make sense right now. In the meantime, fostering gives him quality time with a feline companion, and it's a rewarding challenge:
"I see it as my job to get the cats socialized and ready for adoption," Darcy said. "You get this cat who's really terrified to start, and then over the course of a few weeks or months, they slowly become used to you. It's very fun to see them shift and become a happier cat."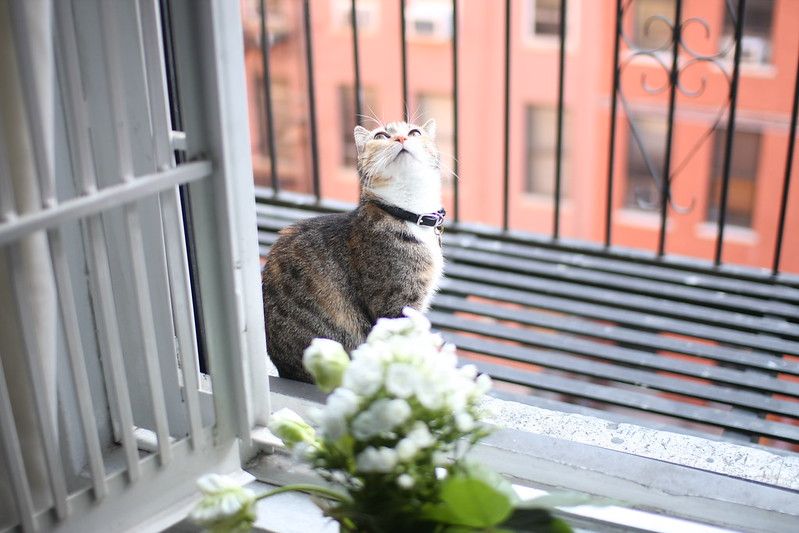 Volunteer
Kars for Kats: Beyond fostering, there are other ways to volunteer your time. Wisdom says Greenpoint Cats is always looking for transport volunteers to drive cats (or ride along in a car share) to spay-neuter or other medical appointments.
Net Neuter-ality: Another option is getting trap-neuter-return (TNR) certified, which means you can volunteer with local TNR groups, like Neighborhood Cats, The Feral Cat Initiative and the Save Kitty Foundation which help manage existing cat colonies and prevent unwanted breeding by ensuring community cats are spay-neutered. Sign up for a $10 certification workshop here.
Lend a paw: You can also support your neighbors who may be struggling to care for their pets. Gruber recommends Paws New York, which places volunteers in a house call program wherein you can check on your elderly or disabled pet-owning neighbors, and help them out by cleaning a litter box or taking a dog for a walk. Such efforts can help curtail surrenders, Gruber says.
Donate
Shelters, rescue groups and community clinics, which are typically non-profit and volunteer-run, need all the financial support they can get to cover medical costs, animal transport costs (like Ubers), and more. Flatbush Cats, a low-cost medical and spay-neuter clinic, just broke ground on a brick-and-mortar location in August, and is taking donations to help support their services.
You can also get creative with it; ceramicist Ideal Baskets made mugs featuring a foster named Octocat, with proceeds going to Greenpoint Cats and cat rescue Brooklyn Kitty Committee to cover his medical costs; The Gutter held a "Spare the Alley Cats" bowling fundraiser last month.
Give a cat a job
Another way to find a home for a shelter cat is as a "working cat." Working cats live at businesses and offer their services in the form of pest control. So if you have a job for a kitty (such as deterring rodents from nesting at your business), you should contact Hard Hat Cats.
Founder Sheila Massey places ACC feral shelter cats, who wouldn't be a good fit for adoption, into breweries, distilleries, apartment buildings, community gardens and more, where they can "work" as non-toxic rodent control. (These cats aren't typically mousers, but rather act to deter rodents simply by living there).
Getting the cat is free, but the "employers" as Massey calls the adopters, have to provide food, water and humane conditions for the working cat. Massey personally visits potential businesses before making a placement to ensure it's a good fit. You can find Massey's cat placements at Kings County Distillery, Transmitter Brewing and New Roots Community Farm, among other locations.
Contact your council member
Volunteering, adopting, fostering and donating help, but we're never going to get the cat crisis under control without significant financial support from the city. Contact your local reps and encourage them to make funding and subsidizing shelters and local rescue efforts, especially low-cost spay-neuter, a priority.
Some councilmembers are already halfway there: in an August op-ed for The Queens Chronicle, 24th district Council Member James Gennaro wrote: "The city needs to be focused on partnerships with local rescue groups … adoption events, educational TNR programs and budget allocations for local rescues and shelters are crucial in getting this situation under control."
With a little nudging, we can get more electeds on board, and more services for NYC's cats and cat owners.