Can the 'Airbnb for dog parks' cure your canine's case of yard envy?
In many ways, New York City has been a great place to raise a dog. But one thing has been missing all these years: a yard of our own.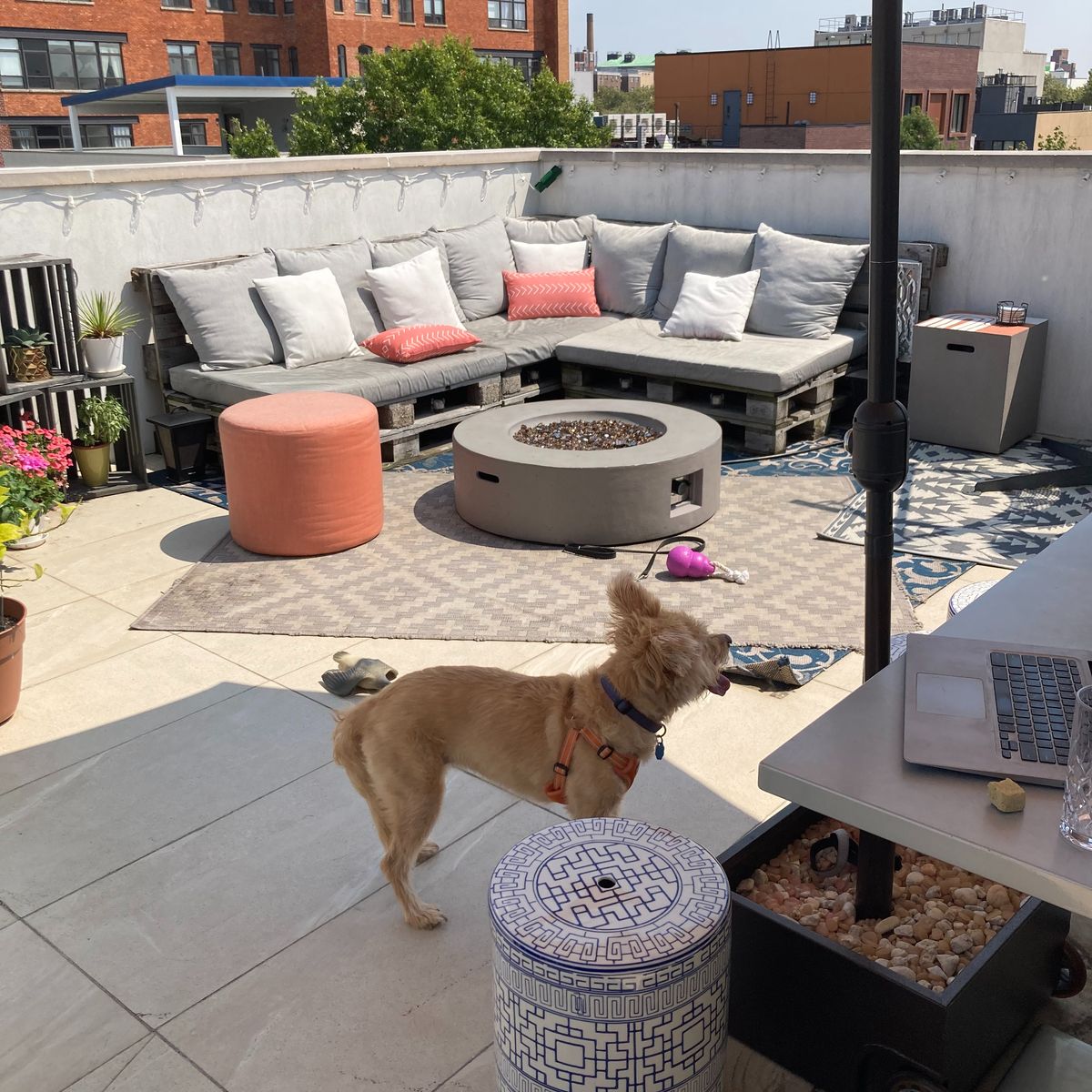 By Kate Mooney
In many ways, New York City has been a great place to raise a dog. In the 12 years my dog Phoebe and I have lived here, we've had our run of the town, bouncing from dog bars to park off-leash hours, chilling on stoops or rooftops, or simply enjoying our thrice-daily walks in the neighborhood.
But one thing has been missing all these years: a yard of our own.
For a while now, I've fantasized about walking out of my apartment and into my own private outdoor space, where I could relax while Phoebe putters around as she wishes. At almost 14 years old, my scruffy mutt is still a chaos agent seeking the call of the wild, although a recently- developed case of arthritis has limited how far and fast she can roam. Being able to sniff and explore at her own pace, within the safety of a fence but without the confines of a leash, is my senior-dog dream for her.
And on my end, I'd like to fully let my guard down while we're outside—switch off my brain, free my hands from the reins, turn down the dial on my (dog)-motherly radar. If we also had our own fenced-in space, we could both enjoy outdoor time, and I could really chill: read, call my mom, dissociate — the possibilities abound.
So when I found out about "the Airbnb for dog parks," I hoped it could fill my need for a fully stress-free outdoor dog hang. Sniffspot, which launched in Seattle in 2018 and expanded to New York two years later, allows yard-havers to rent their outdoor space to dog owners and their dogs for minimum 30-minute increments. It has a set hourly rate (a sample search showed a price range of $4 to $50/hr per dog). During your visit, you'll have the backyard completely to yourself and your pup—no dodging sidewalk rats and overflowing trash—and may not even meet your host if the yard has a separate entrance.
I was curious how Sniffspot would work here, though. Do enough renters or homeowners even have private yards to rent out? Would we be able to get to them easily? Also, why hadn't I heard anybody talking about it? Determined that Phoebe and I get to properly Touch Grass without interference, I signed up and searched for spots available within a 10-mile radius.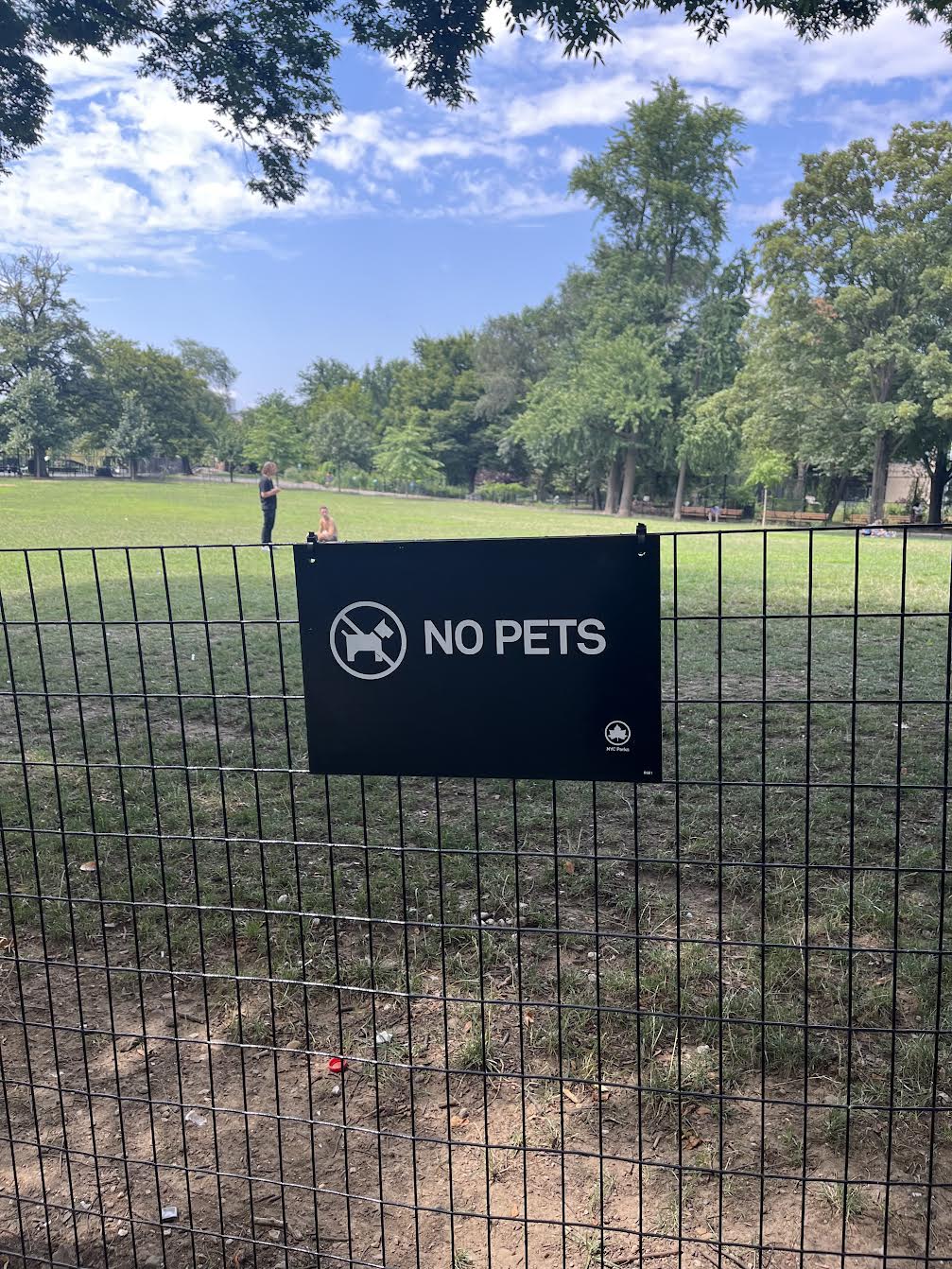 Grass, Grass, Everywhere, and Not a Spot to Sniff
I'm hardly the only New York City dog owner in search of more run-around space for my canine dependent. Whether it's due to the pandemic boom in dog ownership—which is still resulting in unprecedented numbers of dogs being surrendered at city shelters—chronic "reseeding" issues that close sections of park lawns for months at a time, or dog runs beset with infrastructure issues and leptospirosis outbreaks, it often seems like there's not enough public green space to accommodate the density of city pups. If our dogs had another option to blow off steam, would we all reap the benefits?
The lack sometimes leads dog owners to DIY-dog-park. In North Brooklyn, where dog owners triple the city average and green space is lacking for dogs and humans, Greenpointers last month uncovered a pitched battle for turf. Dog owners were repeatedly removing "No Pet" signs from an area in Transmitter Park that was being reseeded, and allegedly causing "sanitation issues" by letting dogs run free in fields at Newtown Barge Park and Sternberg Park, leading the city to lock them.

Sniffspot #1: The Dream of the Suburban Lawn is Alive in Ditmas Park
Listed as a "top spot" on NYC Sniffspot, a bucolic Ditmas Park backyard was ours to book for $11/hour. On a Friday afternoon in late July, a few trains and a half-hour later, Phoebe and I arrived at the two-story house on a peaceful block, letting ourselves into the backyard through an unlocked gate at the end of the driveway.
Immediately, the space was exactly what I wanted. It was one of those "feels like 105" degree days, but the large backyard was well-shaded with a back porch, a full, healthy lawn of grass for Phoebe to wander and zoomie around, plus a kiddie pool for her to splash in. I sat on a chair, cracked open a La Croix I had brought, and felt my blood pressure lower, the neighborhood impossibly quiet. During our visit, we didn't hear or see any neighbors, nor encounter squirrels or cats. Every time I go to Ditmas Park, I sort of can't believe it exists.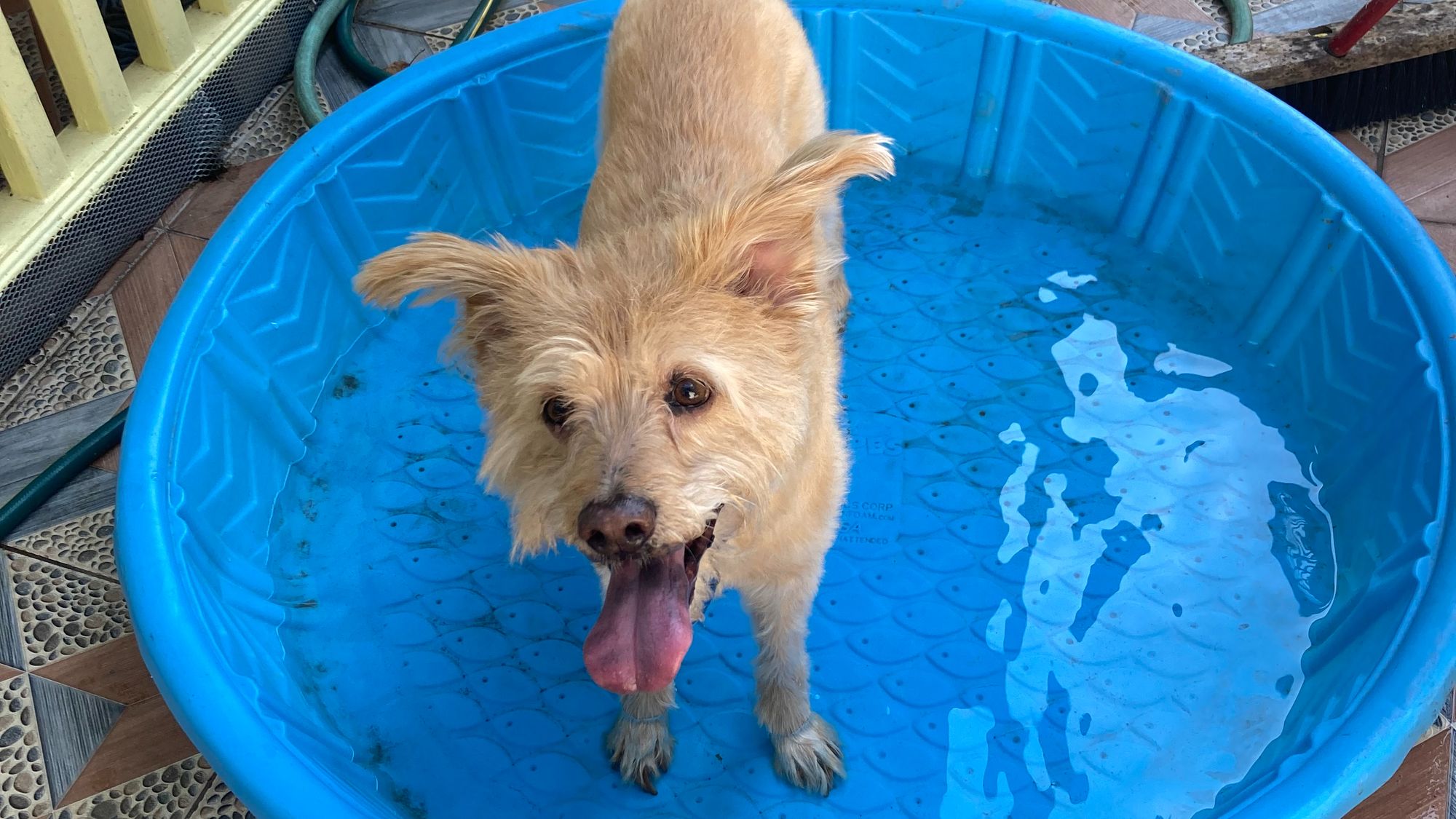 Our host, homeowner Ian, who asked that we only use his first name for privacy reasons, told The New York Groove over the phone (he wasn't present at our booking, and almost never meets his guests) that he first joined Sniffspot in April after seeing a targeted ad on Instagram. After the family dog passed away in 2022, Ian wanted to open up his yard for others to enjoy. "I had a big enough yard and space that was groomed, but I didn't want it to go to waste," he told me.
As a side hustle, it's not too shabby; Ian says he gets at least 10 bookings a week, averaging around $400/month, after the 23.9% plus $.30 commission Sniffspot takes on every booking. (For comparison, Airbnb charges hosts a 3% flat service fee per booking.)
Ian's spot provides dog toys and water, wifi, refreshments like White Claw and Starbucks for an extra charge, and is available to book for larger gatherings or "dog parties." A bathroom for guests isn't available yet, (which would have been my one complaint), but it's in the works, he says.

Sniffspot #2: Taco Dinner in an LIC Garden Apartment
After our initial Ditmas Park slam dunk, finding a second spot didn't come as easy. Pooch paradises with acres of land, located in New Jersey or the very outer edges of Queens, beckoned to me, but seemed impractical for a quick visit. Some Brooklyn hosts didn't respond to my request for booking; other profiles lacked photos, as though they'd signed up on a whim and then abandoned the app.
Founder David Adams told me via email that Sniffspot currently has 150 hosts and thousands of users in NYC (which he defines as all five boroughs as well as Nassau, Rockland, Suffolk and Westchester counties). He also wrote that the number of NYC Sniffspots "has grown by 295% since this time last year, and bookings have grown by 706% since this time last year." I can't do that math, but anecdotally, it seems like it's very much in its beginning stages.
Our second booking brought us to a garden apartment in Long Island City on a Tuesday evening. I drove this time, due to boyfriend-with-a-car privilege. Walking across the Pulaski Bridge would have been a fine option, I just didn't want to overly tire out Phoebe. Our hosts, married couple Sydney and Mike L., who rent their apartment, let us in because they don't have a separate egress to the yard, handing my boyfriend and I a couple small bags of chips to enjoy with tacos we'd picked up from a truck on Vernon Boulevard, and a bowl of fresh water for Phoebe.
The set-up here was less suburban cosplay and more of an urban garden, with a picnic table, grill, strewn lights, potted herbs, and a low din of noise from nearby bars and local traffic. Still, for $15/hr, Phoebe enjoyed freely exploring the length of the yard and the small plot of wood-chipped dirt while we ate our tacos and pondered LIC living (cute, convenient enough, but a little too expensive) and how nice it would be to have a yard with a grill (theirs was available to rent for an extra charge).
When we chatted on our way out, Sydney explained that they came across Sniffspot from a Google search on how to rent their yard for extra income.
"Sniffspot came up and we were like, 'Oh yeah, we love dogs! Why not?'" she said. However, in the past year, they've only had about five bookings, and apart from a dog trainer who brought five dogs, earning them about $75 in just one hour (minus fees), the app just isn't lucrative enough to keep up with, they told me.
Sniffspot $3: East Williamsburg Work-From-Roof (or 'Work-From-Woof')
Our final tester spot was a private East Williamsburg roof terrace that also ran us $15/hr, newly available on the app; Phoebe and I were the first guests! I came during the work day and brought my laptop. Our host Annie, who owns the apartment with her wife Amy, buzzed us in and led us up to the roof, sharing the wifi (guests do have the option to go up to the roof themselves without meeting their hosts, though).
Similar to the LIC spot, the terrace felt more like a human-hang, without a ton of space for a dog to get their energy out; Phoebe enjoyed complimentary dog treats and water, but didn't actually do any business—I think she knows somehow that a rooftop is different from Outside. But, it was lovely as a work-from-home location change, with a table and umbrella, built-in sofa, electric fire pit, hammock, and a shaded dog bed. It would be a swell place to watch the sunset with a dog at your feet, with views of neighboring rooftops, and an epic Roman-Catholic church. (The area is pretty quiet too, in that industrial section of East Williamsburg.) I definitely felt envious of the setup, and made a mental note to "figure out private outdoor space at a future apartment" in my head.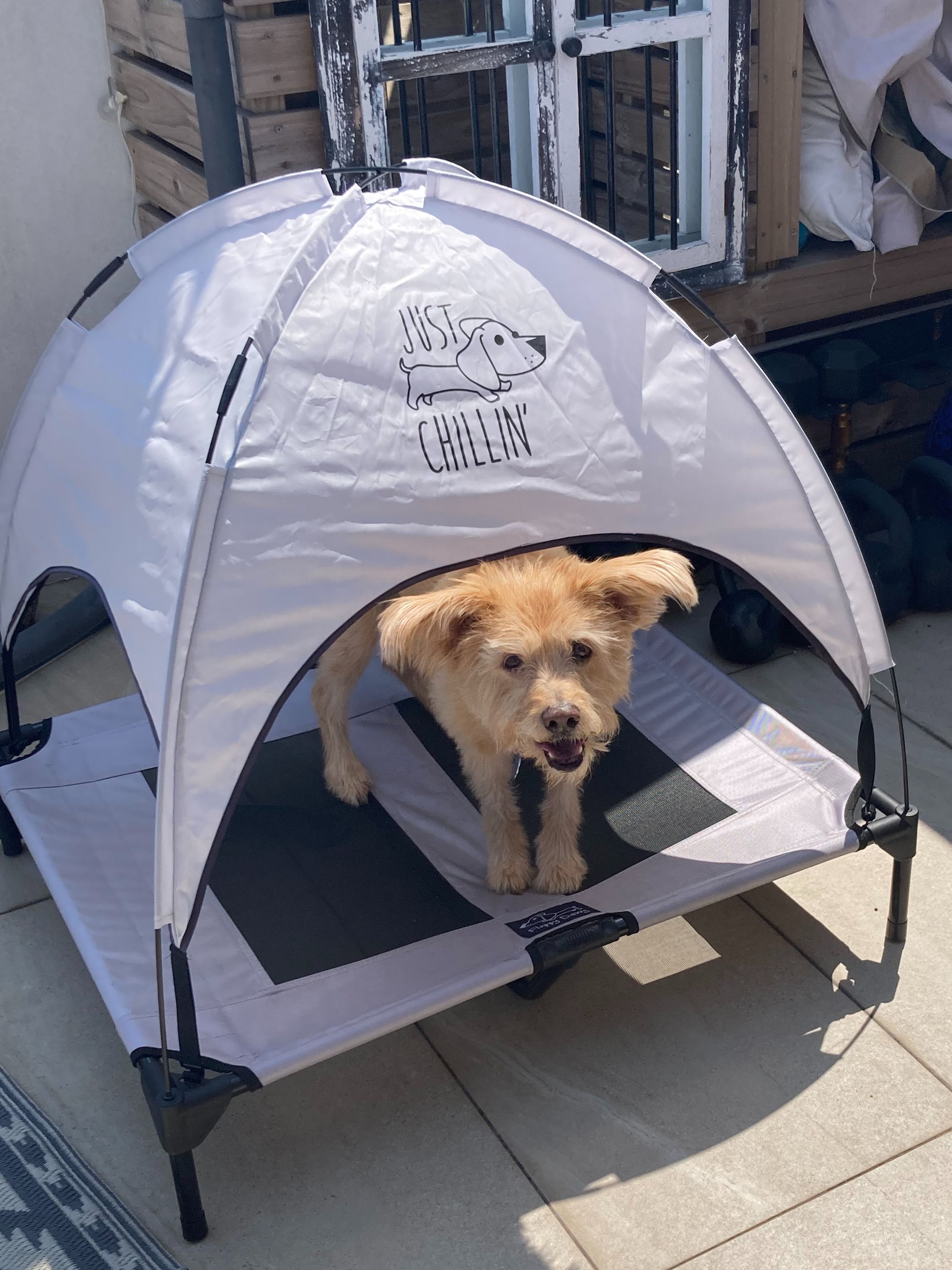 Annie told me that they found Sniffspot through a targeted ad they saw (while logged into their dog Cocoa's Instagram!), and, looking for a way to make passive income, signed up. Because Annie and Amy work on a hybrid schedule, at least one of them will be at home most days, making it easy to buzz up guests. Annie added that they thought it would be nice for dog owners who can't necessarily bring their dogs to the park because of behavior issues to have "an outdoor area where they can have some fun on their own."
A safe haven for 'reactive' city dogs?
Adams told pet site The Wildest that one goal for Sniffspot is to provide a safe space for "reactive" dogs, whose fearfulness, anxiety, or hyperactivity can make socializing at dog parks or other crowded areas challenging. I wondered if the app could provide a release valve for overstimulated New York City pups, and asked Robert Haussmann, certified professional dog trainer, canine behavior consultant, and co-founder of Dogboy NYC, what he thought.
Haussmann told me that private yards could help dogs who deal with "behavioral issues that might prevent them from being successful at a dog park," or athletic dogs who might require more exercise than daily walks.  
Failing that option, Haussmann encourages work-to-eat toys, or structured classes like scent work and agility. Otherwise, you might try waking up early to claim an empty corner of the park, or running your dog before tennis or basketball players get to the courts.
The Verdict
I think if Sniffspot catches on, with more yards available to rent, I see myself using it whenever I need a break, a nice addition to the mix of Phoebe's and my social life. And I hope that reactive dogs can find a little relief via Sniffspot, too.
Living on top of each other doesn't lend itself to giving grace for small annoyances. With so many four-leggers out and about in the city, just trying to sufficiently stretch their little legs, some New Yorkers may have Fido-fatigue (see snarky tweets, or a whole article arguing that dogs shouldn't be allowed to exist here). Or perhaps dogs have simply become the latest enemy in the chronic fight for space here, joining the forever war of cars vs. bikes vs. streateries vs. bars vs. babies—and the list goes on. Maybe Sniffspot is an avenue for a truce in that fight.
But I also think trying out these spaces gave me a greater appreciation of the urban dog life Phoebe's had, from our long stoop sits to casual sidewalk interactions. Sure, having our own yard would still be nice, and maybe for my next apartment, I'll insist on it. But I don't have the same envy of suburban space I started out with.
As Haussmann put it, "New York is actually a bit of an underrated spot to raise a dog–if you do it right. A dog gets more action in a bathroom run than a lot of dogs with yards get."